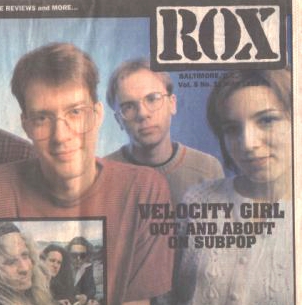 They were pictured on the cover of Alternative Press and the Washington Post Weekend Magazine. The Silver Spring band was recently profiled in Melody Maker, Rockpool, Spin, Musician and Rolling Stone.
But now they're in Missoula, Montana. Guitarist Archie Moore, weary from a day of riding in the group's white Dodge Ram, walks across a Taco Bell parking lot toward a phone booth to call Rox for an interview.
Moore wipes a bead of sweat from his brow, reaches into hits jeans and pulls out Sub Pop's calling card number. Velocity Girl are on tour, opening for Belly. Tomorrow they'll be in Vancouver, Canada. Yesterday they were in Boulder, Colorado.
'We really haven't had a day that wasn't devoted to driving," Moore tells me. "We got to spend a little bit of time in Boulder the other day. We went to this college area shopping complex. We went to a bunch of book stores."
Like soldiers in combat, the group alternates between brief moments of excitement and long periods of anticipatory boredom. They play a forty-minute set, then drive for hours in silence (their tape player is broken) to their next gig, stopping only to eat in fast food joints or at that rock n' roll standby, Denny's.
Pushing Across The Wide Open Spaces
"It's a mighty long way down rock n' roll," Ian Hunter once sang. Indeed, it's a mighty long way from the University of Maryland at College Park where the band formed, to Sub Pop, the Seattle-based independent label they signed with, The band started as the Goterdammacrats back in 1989. Archie Moore met bassist Kelly Riles on the University of Maryland's Concert Committee, where they both worked. They started hanging out together, eventually forming a band with lead singer Bridget Cross and drummer Jim Speliman. They renamed themselves Velocity Girl, lifting the moniker from the B-side of a Primal Scream single.
Cross baled out and later went on to front Unrest. With so much time invested, Moore and Riles decided to find another female lead singer. Moore' knew Sarah Shannon from school and knew she would be the perfect front woman. She possessed a deceptively clean vocal range, one capable of climactic dives and ascensions (she's had formal operatic training). Brian Nelson, fresh from Big JesusTrashcan and Whorl, was also added as second guitarist.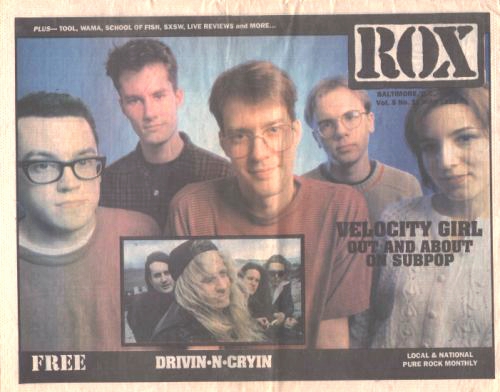 All through the group's career, They've released singles on Slumberland, a label that Moore helped start. "Singles are our favorite thing to do," Moore enthuses. "I think it's the best way to indicate your songwriting abilities; to put out two of the songs that best sum up the way you sound in three and a half minutes."
It was the "My Forgotten Favorite" 45 that finally brought them national media attention. It also brought them to the attention of Sub Pop owners Bruce Paritt and Jonathan Poneman, who enjoyed the sound and thought it would be different from their usual grunge fare.
So they gave VC one side of their single-of-the-month (D.C.'s Tsunami graced the other side). They then rereleased "My Forgotten Favorite" on a promo-only CD four-song to test the waters. Those waters must have been inviting, because shortly thereafter VC was herded into Memphis' Easley Recording studio to record Copacetic, released last month.
After three years of hard work, the trappings of success are pouring in. With the exception of Moore, who still occasionally punches the clock at Yesterday & Today Records in Rockville, all the members finally got to quit their day jobs. "Not because we're rich or anything," laughs Moore, "It's just that many employers wouldn't allow us to take a month off for touring."
They were also just lauded with perhaps the truest measure of fame. Last September they were featured in Sassy's "Cute Band Alert." Yup, their collegiate, boyish faces were scotch-taped on prepubescent girls' bedroom walls all across America.
Who Are My Bloody Valentine and Why Do They Keep Following Us?
Many reviewers compare Velocity Girl to My Bloody Valentine. Velocity Girl remind people of MBV the way Beatlemania used to remind people of the Beatles. Why? Could it be that both bands rely on a heavily distorted guitar sound, a female lead singer whose vocals are mixed in a raging wall of noise, album cover art composed of blurry photographs, and oblique arrangements that evoke jarring and dreamlike states? Who knows?
"It's a sore topic with us now. We never deliberately tried to sound like another band," Moore says. "We definitely enjoy aspects of other bands; a good melody, a good guitar sound, that sort of thing."
He then adds almost defensively, " I think with any young musicians, their sound is going to reflect what they listen to a lot"
Still Sucking Air
Truth is though, the art-damaged MBV couldn't pen a song as infectious as VC's "Pop Loser," or "Crazy Town." As one reviewer put it, "They put the pop into Sub Pop." Not only is Shannon's voice far more accomplished than Belinda Butcher's, but the band itself seems more sure-footed. (VC also have a sense of humor, which is sorely lacking in many of today's top shoegazers. For instance, for the first line on the album, Shannon sings in her sweetest lullaby voice, "I know a place that I'm going to. . .burn down.")
Before embarking on a career of not sounding like My Bloody Valentine, they had an industrial quality about them. "Industrial in the sense that when we started we didn't know the chords or anything and so we played percussive sounds scraping and clicking the strings off the bridge, stuff more noise oriented," Moore says.
Like many other college students in their early twenties, Moore and Riles listened intently to the new wave of noise bands--anybody from Primal Scream to Head of David. But unlike their peers, they were bending their ears to the oldies on radio stations like Xtra 104, and to a lot of obscure indie label pop bands such as Baby Lemonade, the Fizzbombs, and the Fastbacks. Velocity Girl achieved a unique synthesis between two unlikely bedfellows: pop and noise. The strange brew worked--after two weeks on the road, Sub Pop has shipped 9,000 copies of Copacetic.
"When we first started, we were thrilled when we got to play the tiniest clubs in D.C.," Moore recalls. "We were absolutely astonished that we could put out our own record. We definitely never thought other people would be interested in us."
But they are, and now Velocity Girl have to go play for them. The interview is over. Moore can climb back up in the van's loft and finish reading his copy of Paul Auster's Leviathan while Kelly drives headlong into the long night.