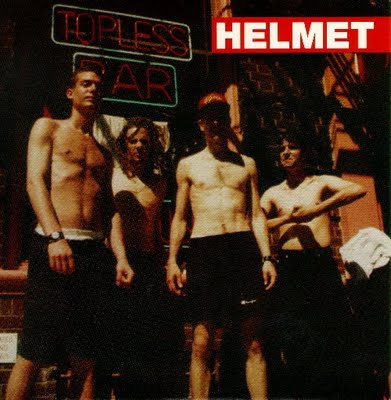 I ended up talking with guitarist Peter Mengede who, according to a recent Spin article, was "the funny one." Indeed. Page Hamilton may be the leader, but Mengede gives you better copy. He's humorous, but thoughtful. Upstairs at the posh Michael's 8th Avenue (where Helmet was about to open for Faith No More), we sat down to do the interview at an elegantly prepared dining table. The lanky Mengede promptly grabbed one of those dainty saucers to use as an ashtray.
He looks around and laughs, "I feel we should be doing Billy Idol songs, like 'White Wedding'," he said
Throughout the interview, Mengede seemed intent on keeping his band's connection with the underground, while at the same time making sure I knew the band's reasons for going beyond it. We talked about the HourHaus (an underground club in Baltimore where where they played in 1991 with Jawbox) and "making it" on an independent level.
"We've been playing for about three years," he says, "touring for about two. That's the best we can do. We got to the point where, at an independent level, we're successful if (we) can go play Greensborough, North Carolina and draw 200 people."
"Word of mouth can do so much; It's a great thing. We Just needed to get beyond that. There are amazing bands, like the Jesus Lizard, that still do that but haven't got quite past it," Mengede says.
So how does their new label, Interscope, compare with their previous label, Amphetamine Reptile? "Interscope are great at retail. They do an incredible job with the press. We got a video; obviously they have some weight. We're going to start working on the third video of the record after we finish this trip. Radio-wise, they're doing a great job as well. We're on 60 - 70 CHR stations at the moment," Mengede comments.
"Tom Hazelmeyer with Amphetamine Reptile, he's enthusiastic," Mengede pauses. "But the difference is, when we see Tom, we'd go to Minneapolis, he'd drink Jagermeister, get really drunk, beat us up [laughs]. Maybe take us to the Flame Burger for breakfast and we'd have to pay."
Kidding aside, the relationship between Helmet and Amphetamine still seems strong. As of press time, Helmet was planning to an Amphetamine Reptile showcase at The Ritz (N.Y.C.) on October 30 with The Melvins, Hammerhead, Cows and Surgery. "Just for old times sake," Mengede comments.
Back in 1985, vocalist and guitarist Page Hamilton left Eugene, Oregon (a laid back, hippie town if ever there was one) to attend the Masters of Jazz program at New York's Manhattan School of Music. In his spare time he joined Glen Branca, a New York experimental guitarist whose guitar symphonies fell somewhere between classical and rock.
Page also joined Band of Susans--a band known primarily for their wall-of-drone sound for a spell, but left when he reportedly wasn't allowed to perform his own songs. In 1989, he set out to start his own band, Helmet. A mutual friend introduced Hamilton to Australian-native Peter Mengede. Mengede had a predilection for garage intensity--Stooges, Chrome--and provided grounding for Page's experimental flights.
From there, a Village Voice ad procured drummer John Stanler, a veteran of numerous Florida hardcore outfits, as well as a student of Orchestral Percussion at the University of Miami. Word went out for a bass player and following 13 auditions they decided on Henry Bogdan (another Oregonian, strangely enough) after he auditioned by plowing through a version of "I Wanna Be Your Dog."
Once together, Helmet gigged constantly on the New York circuit and was quickly signed by Amphetamine Reptile. They appeared in magazines like Flipside along with other relatively obscure (in the mainstream, anyway) but worthy post-punk bands like Hole, Saint Vitus, Mudhoney, Nirvana, Ed Hall. Their first single released in December 1989, "Born Annoying/ Rumble," brought some notoriety. Strap It On their debut album, was released a year later. Recorded for $2,500, Strapped On sold quite a promising 10,000 copies. Things seemed set for a respectable run in the alternative scene.
Something quite bizarre happen, though. As the band gigged constantly up and down the east coast, an incredible word-of-mouth reputation built up about them, the kind of solid rep a record company just can't buy. From basement to basement, bedroom to bedroom, club to club throughout America, word came down; Helmet was one heavy band.
And when the major labels caught wind, a heavy bidding war ensued. It didn't hurt that Nirvana and Pearl Jam were recently pushed to superstardom, and there was already a mad scramble for the next underground crossover. It also didn't hurt that the band stopped recording, except for a couple of Amphetamine singles, blasting their reputation into the Greta Garbo realms.
I asked Mengede if the band was aware of how extensive their reputation had become.
"Yeah, I started it," he laughs. "I talked to everyone and said [he whispers] 'Helmet, they're great. They're great. They're great. I don't know the band but they rock.'
"I started the bidding war as well. I was sitting in there raising my hand--'one million, two million,' just doing whatever I could," he jokes.
It must have worked, as they were snatched by Interscope, a subsidiary of Atlantic, for a rumored seven figures. In the Meantime (which took only two weeks to record) finally appeared last summer, two years after Strap It On.
Those underschooled in the genealogy in the heavy metal chain claim Helmet sound like Black Sabbath. Those overschooled draw Slayer comparisons. But according to Mengede, the band is little influenced by other musicians.
Mengede comments, "Page is very influenced by John Coltrane. John's influenced by Neil Pert. Henry's like a cross between Fudge Tunnel and George Jones, and I'm somewhere between AC/DC and the Birthday Party."
"If we put it all together, it wouldn't work. It'd sound kind of stupid: country and western prog-work with a bit of jazz fusion. We'd all have to wear little blue suits," he says.
"The thing we have in common is that we're pretty aggressive when we play," he says. "We like playing loud. Living in new has been really good for us. If page and Henry were still living in Oregon, they'd still be smoking pot."
Those who have seen them live would agree that they thrive on aggressiveness, but fans also note the band never diverges from their set list. No ad-hoc covers of "King of the Road." No far-flung solos. The songs are played exactly as they sound on the albums. The press book even reads, "This is no garage band, no groups of friends who got together to get fucked up and jam."
As a result, they have a reputation as control freaks.
I asked Mengede if they are, in fact, into control. "Yeah," he replies, pointing to an imaginary audience, "You in front! Sit down!"
He continues, "It requires a little bit of discipline. It's like watching Ed McMann's StarSearch. Four people in leotards come out and dance and one person breaks away and does somersaults. That's like us. If we're all off doing somersaults, it doesn't do work. We aim for songs that work for a whole--everything serves a purpose.
"Nothing we do is spontaneous. Nothing"