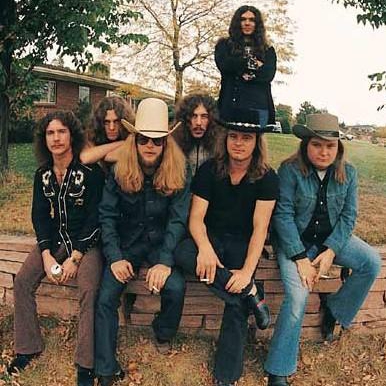 Rox magazine, July 1991
Lynyrd Skynryd is back.
What?
What kind of scam is this? What fools dare try to suckle from the memory of the might Skynyrd maul? And for this new album to be rendered with the same name that graced Gold and Platinum, well that's like filling an empty Jack Daniels bottle with lemon juice.
That's what I thought, and I expected most Skynyrd fans would be just as skeptical. I mean, some American traditions you trample on.
But this is no easy scam. Original members Gary Rossington, Ed King Leon Wilkeson, Artimus Pyle and Billy Powell have joined together with Ronnie Van Zant's younger brother, Johnny. Guitarist Randall Hall and drummer Kurt Custer were also added, and Tom Dowd (who produced the band's last album, 1977's Street Survivors) produced the new album.
O.k. So some of the credibility is intact, but the new album Lynyrd Skynyrd 1991 has a lot to live up to.
Still, if anyone could fill Ronnie's shoes, it'd be Johnny, who was born nine years after his bother. After all, as Johnny points out, "We lived in the same bedroom." They shared the same influences, both musical and non-musical. "Gary always said we were spanked by the same mom and dad," he admits.
The Van Zant family grew up in Jacksonville, Florida. They "lived on the west side of town. We called it shanty town. It was a real rough neighborhood where you played music or you went to jail," Johnny recalls, laughing. The three brothers chose music (the third brother, Donnie, went on to front 38 Special). "We used to always get out on the old swing set out in the front of our house and sing Beatles songs."
In 1965, Ronnie, along with guitarists Rossington and Collins, formed the band My Backyard. "They used to practice in our living room and my dad had an old tailor in the back too. So when he got fed up, they would set up in that . . .until the cops ran them off," Johnny remembers.
My daddy was a truck driver and my mother was a housewife," Johnny says. "They've been behind us all the way."
Later, when the "boys" claimed fame, the Van Zant father would insist that they'd bring home the trade magazines reviewing their latest projects. This continues to this day, as Johnny notes, "I was talking to him this morning and he was saying 'Don't come home without some trades!'"
My Backyard soon evolved into Lynyrd Skynyrd (named after a local gym teacher, Leonard Skinner, who had criticized his students' long hair), incorporating drummer Bob Burns, Wilkeson and Powell. In 1972, while playing in an Atlanta bar, they were spotted by Al Kooper, who signed them to MCA's Sound of the South label.
For the next five years, they perfected their sound, a three guitar rock boogie. Though dismissed by rock intellectuals of the day, the albums displayed exceptionally precise and diversified musicianship. They could easily slip into anything from jump swing ("I Know a Little") to heavy metal ("Saturday Night Special"). They fused the best of hard rock and the then-new outlaw country music, defined by Waylon Jennings and Willie Nelson.
As a result the group scored heavily in the newly emerging AOR FM format with songs like "Gimme Three Steps" and "Sweet Home Alabama," which answered Neil Young's south-bashing "Alabama" and "Southern Man."
(What is not so well-known is that Ronnie admired Neil Young, and Young, too was a fan of Skynyrd. Johnny remembers, "They thought Young was funny. They had a saying: 'Hell man, he's from Canada. What does he know about Alabama?'"
Johnny points out that "right before the plane crash, Ronnie, Neil and Gary were planning on writing some together. They were all friends and they spoke to each other.")
On October 20, 1977, three days after Street Survivors was released, the band's tour plane crashed outside Gillsberg, Mississippi, killing Ronnie and two other members, Steven and Cassie Gained. No one ever questioned that this was the end of Lynyrd Skynyrd.
Until 14 years later.
Johnny: "I think music comes in circles, and I think it's a great time for this particular style. There as a lot of people starving for this kind of music."
Indeed. Today, local cover bands like Poison Whiskey fills bars with their Skynyrd sets. Classic rock stations endlessly rotate songs like "Gimme Three Steps" and " Freebird." A new demand for southern rock has emerged.
We, you know we did the tribute tour [in 1990], and then after that, it was kind of like breaking up a marriage, everybody was going their own ways. So me, Gary and Ed got together and said, 'Well, why don't we write a few songs and keep in contact with each other.'
"So we wrote a few songs and it felt great. Me and Gary made a pact a long time ago that if it didn't feel great, we wouldn't do it, and it evolved from that. We got Tommy Dowd involved in the project and that kind of gave us an open door," Johnny says.
Both Johnny and Gary had been paying their dues for a long while beforehand. Although Johnny was still in high school when Skynyrd's debut album appeared, he was already playing solo. "I started playing music when I was 15," he says. And in 1980, he released his first solo album. Around the same time, Rossington was starting his first post Skynyrd-effort with the Rossington Collins Band (which also featured Allen Collins).
Johnny now faces the inevitable comparisons to Ronnie. "There's only one Ronnie Van. He was a great writer and a hero of mine. But I'm my own man, and if anything sounds like Ronnie's done, it's because we're brothers, it's in our blood," Johny says.
The new album shows how the reformed band sounds. Musically, it emulates classic Skynyrd. The boogie rock may have dated a bit, but they pump life back into it. Check out "Southern Woman" and "Backstreet Crawler."
Though the similarity in voices is striking, Johnny has his own separate writing style from from that of his brother's. It's the country rock ballads that may be his strong point, such as "Pure and Simple" (which recalls Johnny's own solo effort "Brickyard Road") and "Mama."
"End of the Road" brings it home, however. Johnny refuses to gloss over what he's trying to do. With gut-level country music honesty, he sings "We know we have a legacy, it's hard to live up to." But, he seems to be saying, southern music is all about how to keep on keeping on. "We can't seem to find the end of the road," he sings.
Johnny can't offer more than that, except that "I'm proud to be here, and I think we'll give you a hell of a show."