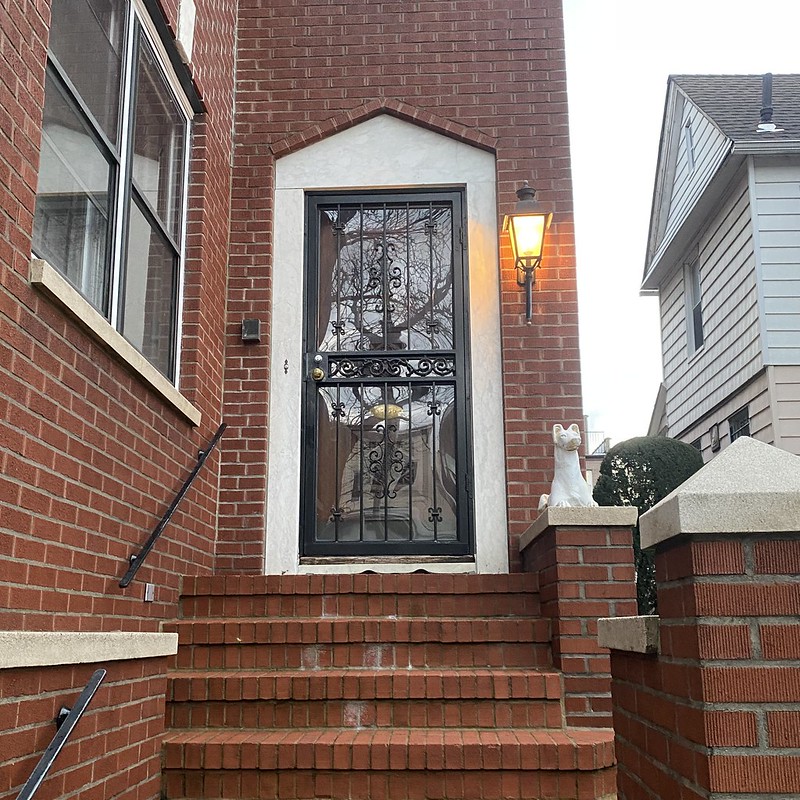 In the six weeks leading up to his death in July 1971, jazz icon Louis Armstrong made nearly 20 reel-to-reel tapes in his Corona, Queens home.
He had been taping on and off, in his second-floor den, for decades. He dubbed this final series "Armstrong's Personal Recordings."
This burst of new activity around the reel-to-reel had come about as Armstrong had become too incapacitated to tour -- which kept him out on the road as many as 300 days a year -- and thus restricted to the house.
As Armstrong recorded reels of his favorite performances on record, directly from the turntable, he wrote down each song's name on piece of paper in a binder, a diligent habit even as his handwriting grew weaker.
Perhaps, as he suspected, he was not long for this world. But, ever-industrious, he set out to use this downtime to document how he himself would want to be remembered.
By then, he had been making records for 48 years. This summing up would be a Herculean effort. Did he plan on actually finishing it? Or perhaps, he would just continue on until he finally passed away, a never-ending project assessing his life's work?
Jazz had been re-imagined a number of times since Armstrong had helped create the genre. And the successive waves of be-boppers, cool-boppers, hard-boppers, and the fusionists all saw Armstrong as old hat. But just getting to where Armstrong got to was itself an incredible feat.
It was important work, saving his own life's music in posterity. Armstrong spent the final day of his life in his den, July 5 1971, dubbing albums to tape. That night, he died in his sleep.

Happily, Armstrong did not anticipate that pretty much his entire catalog would be available on Spotify today. The museum actually made a playlist of the recordings fascinating tape-by-tape account by the museum's director of research Ricky Riccardi, of what Armstrong recorded.

In his den, Armstrong recorded album after album, direct from the turntable to the tape. Each tape was marked on the front cover, "Armstrong's Personal Recordings" and each one got a successive number, starting at #1.

This final series started out strictly about the music, though as it progressed, he'd wander off mission, including snatches of performances by another mysterious Louis Armstrong-like trumpet player, appreciations from his ex-wife, and other odd diversions.

What music he decided to record first at first appears chaotic, at least from any sort of chronological perspective. Were they thematically linked? Was Armstrong DJing his own career?

He started the series off with his most recent peak, commercially, "Hello Dolly," both a #1 single and #1 album of the same name from 1964.

That song was recorded as a lark, at the behest of Armstrong's manager to promote the soon-to-be-unveiled "Hello Dolly!" musical starring Carol Channing. With a decade of film work just behind him, Armstrong was still respected as a jazz pioneer and bandleader. But by then, but was drifting into the oldies circuit.

But "Hello Dolly!" caught the public's imagination in a big way. The song bumped The Beatles off the top of the pops, as it were. The album, largely of snappy Broadway standards, felt very contemporary for that time. He was in the game. In 1964, he was 63, the oldest person to that time ever to have a #1 record.

The tour guide at the museum told us that Armstrong listened to and liked all kinds of music. Of The Beatles, she said Armstrong dug them, that they had a "new beat," he said.

Each tape was long enough to hold multiple albums, so he included a smattering of other recent singles on this first reel. He also included the trumpet-less "Louis 'Country and Western' Armstrong," which would be his last recorded album.

He was proud enough of the album to include it so early in his compendium. Nonetheless, time has shown this album not to be one of his finest efforts.

Eugene Chadbourne pointed this out, and you can't unhear it, that the backing band on this record has no interaction with Armstrong at all, whose vocals were recorded later, for health issues. Worse, and for God Knows What Reason, Armstrong does not play trumpet on the album.

What's funny here is that, back at the den, when Armstrong was recording these albums to reel-to-reel, he may have been playing along with his trumpet as the record spun. But the reel-to-reel recorded directly off the turntable, so his playing wouldn't have made it on tape.

However awful, the album does contain his take on the Haight-Ashbury anthem "Get Together" with Armstrong urging everyone to get together and "love one another right now." It has a weird but fun multi-generational vibe.

From there, he took a detour back to the 1920s and recorded some 78 sides for his ailing buddy Zutty Singleton, back when Singleton drummed in Armstrong's band.

"That was the real Louis," Singleton told an interview captured in the Museum post, "Going to all that trouble because he knew it would cheer me up—even though he also knew he was dying himself, and don't let anybody tell you he didn't."

Jazz fans tend to see this portion of Armstrong's work in the 1920s and 1930s, with the small bands as his best and ground-breaking work, each 78 side a tightly-packed composition with furiously-competing instrumentalists all held under Armstrong's immediately-identifiable trumpet or cornet. Here, he pretty much invented the jazz form of improvised solos.

In the decades that followed, he concentrated more on singing, and brought the scat style of singing into jazz. This was brought him the fame and the movies.

When assessing his own career, Armstrong clearly saw this early historic jazz work as a highlight, but he also valued his most-recent forays into popular song. In Armstrong's estimation, his work only improved over time.

One such inclusion is "We Have All the Time in the World," a lovely 1969 ballad he recorded for the James Bond film "On Her Majesty's Secret Service." Decades later, it would be a top 5 hit in England and Ireland.

He grabs the best sides from his work on Verve, Decca, and RCA. He includes a fair number of obscurities as well, such as two songs he recorded for an Italian label in 1967. He records "Hello Dolly" another three times. He gets 1968's "Disney Songs the Satchmo Way," another joyous upbeat album, which would be the last to feature his trumpet playing.

Also included in the mix is a 1964 smoking live show recorded in Circus Room of the Nugget Casino in Sparks, Nevada, when he was riding high on the success of "Hello Dolly."

Clearly, marking his territory as The Architect of jazz was one thing, but Armstrong also wanted to be seen as contemporary just as much.

In his earlier sets of home recordings, Armstrong would line the front of the tape box with photos from his life, often of obscure origins. They were photos of him on the road, with other famous musicians, of his wife Lucille and family, and some of fans who had visited "pops" at home.

When he started this set, he didn't decorate the boxes, presumably because he was still too weak. But by the fifth installment, the decorations had resumed. Sometimes he took older tapes, and repurposed them for this series, leaving the previous artwork intact.

And here is when "Armstrong's Personal Recordings" loses focus on the mission somewhat.

He taped "Satchmo & Me," a spoken word album from his second wife Lil Hardin Armstrong, who was instrumental in his career in the 1920s. It was she who taught him how to dress sharply (to hide his growing weight), and encouraged him to step out as his own bandleader.

He included the most recent album from singer/actor Pearl Bailey, whose television show Armstrong appeared on (one of his last television appearances).

It also includes two tracks from a then-11 year old Douglas Grant, who would go on to play teenage acting roles in "Electric Company" and "Good Times" in the decade to follow. One of Grant's tracks, "That's Pops" truned out to be a dead-on impression of Armstrong.

He also started recording compilation albums, showed off the best work of the dixieland and big band jazz, including his own. In Volume 4, he recorded "Porgy and Bess," with Ella Fitzgerald, their third and final collaboration. There, he plays mostly a supporting role to Fitzgerald, to wonderful results.

The tapes, which started out to display Armstrong's own talents, drifted to the success of others, showing Armstrong a people person, someone who clearly delighted in the success of others.

This year, hopefully, the public will finally get a chance to listen to the complete collection of these tapes. Armstrong's home is now a museum, and is opening a library across the street that will offer the chance to listen to them.

Artists should try to keep track of their work, but how to do so is always a good question. Some sort of indexing is required to keep the canonical record of the personal artifacts, which should include not only the art itself, but the influences to the art as well. These tapes were Armstrong's attempt to do just that.

Armstrong undertook the tapings in phases, first in the early 1950s, and then again in the late 1960s, at the end of his career. Sitting at his expansive desk, Armstrong would write on a piece of paper a short description of every recording snippet he made. The tapes could hold multiple segments, and he filled each one up as he had time, writing a short description alongside each new segment, which were sequentially numbered.

Each tape was given its own sequential number, and each tape would get its own page. And each page was dated and stored in a binder, chronological. This way, he explained in a recording at the museum, he could always easily find the snippet he was looking for.

He taped musical ideas, his listening parties, copies of his own albums, conversations with his wife Lucille and fellow musicians. Armstrong traveled the world. He was away from his home 300 days a year. And when he toured, he took his recording equipment with him. And at least one tape too "salty" for public consumption. He taped everything he could. He taped his own albums, and by other musicians he respected. But he also taped his feelings, speaking bitterly of the racism he encountered in the industry.

What a collection of recordings these must be. Here was the man who, arguably invented the modern song form, documenting what caught his eye along the way. And Armstrong didn't miss much...