Quotes and observations from the book, " The Show That Never Ends: The Rise and Fall of Prog Rock," by Dave Weigel (full review)
Lemmy Kilmister, then a roadie, lent Keith Emerson two German Army knives that Keith could use to wedge between the Hammond organ keys so their notes would play, freeing Keith up to play another instrument
Wow! Soft Machine, Pink Floyd, the Move, Crazy World of Arthur Brown, the Creation, and The Pretty Things all played in the "14 Hour Technicolor Dream" show in April 29, 1967, in London
"Like The Beatles, [Soft Machine] booked a residency at The Star Club in Hamburg. Unlike The Beatles, they lasted for one night, of a three night booking, before being asked to go back home."
"Whiter Shade of Pale" was born at a party of Guy Stevens' house from Guy bumbling his words as told his wife she had turned "a whiter shade of pale."
In 1965, Keith Emerson could not understand how Manford Mann's organ was louder than his...
Asking to use the name "Soft Machine," Daevid Allen Met William Burroughs "on a street corner in Paddington, cloaked in needless mystery one more time. He appeared out of a shopfront, hat pulled over his eyes, looking like a crumpled insurance clerk."
Hawkwind started off as buskers ... street musicians
If, according to the rumors of the day, Jimi Hendrix would have joined Emerson, Lake, and Palmer, the band would have been called HELP rather than ELP - Keith Emerson
"You don't have to believe in God, but a musician believes in music as if it was a God." -Robert Fripp
"Some would say our music is pretentious. I would say the music is arrogant ... 'Pretentious' means trying to be something you are not. Well, I wonder what we have tried to be that we are not."
Bassist Gordon Haskell recalls how King Crimson would "take 12 hours to get a drum sound and it was still shite," adding that "Otis Redding's band took two minutes to get a drum sound and that was perfect."
Somebody had "stirred a cauldron, pointed a bone, painted a throne, and crowned a king," -Lyricist Pete Sinfield on the rapid formation of King Crimson in 1968-9
"You must be kidding. They only have proper music in there," said the doorman, blocking reentry to Robert Wyatt, who slipped outside for a fag before his band Soft Machine played the BBC
"Everything about [the #Yes album] 'Fragile' screamed 'We are virtuosos.'"
The ELP album "Tarkus," featuring an ugly armored armadillo on the cover, got its name from the combo of 'tartarus' (a "condition of deep spiritual debasement") and "carcass."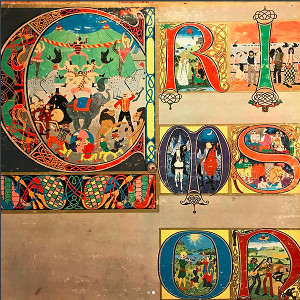 Evidently, Robert Fripp enjoyed a profitable lil side hustle selling used #Mellotrons, claiming each one was the very one used on "In The Court of the Crimson King."
"The phone started ringing and people started knocking on the door ... I almost made the song 'Discreet Music' without listening to it," - Brian Eno on how he put together music based on a looping synth line run through echo box
"It was a disaster" - Todd Rundgren said of his late 70s progrock band, Utopia
"The sounds of the English language weren't necessarily suited to this kind of music" - Magma's Christian Vander on why he invented an entirely new language, Kobaïan, to sing in.
"I honestly feel that, very shortly, America will start listening quite seriously to a lot of new European bands" - Keith Emerson on 70s Italian Progrock bands Premiata Forneria Marconi and Bancodel Mutuo Soccorso
"Punk legitimized us immediately," said Rush's Geddy Lee. "We were adept and competent musicians."
Bassist Tony Levin missed an early chance to play for John McLaughlin's Mahavishnu Orchestra because the In-law who took the call wrote down "Murray Vishnu and his Orchestra."
Emerson, Lake, and Palmer fell on the name "Works" for its then new album from all the classical music box sets that KeithEmerson got his cocaine delivered in.
During the height of ELP's popularity, Greg Lake asked his old King Crimson band mate Robert Fripp if he'd want to play together again. When Fripp demurred, Lake kicked him out of his limo.
"1977 had been the year of punk, of DIY, and of a rock press coming with pitchforks at ELP."
"Genesis was becoming a pop group, as it had been in the Charterhouse days. The difference was a decade-plus of adult gravitas."
During his audition with King Crimson, Tony Levin played "Lark's Tongue In Aspic Part 11" perfectly in spirit, despite never having heard the song before.
"'In America, on the late night radio, you'd often end up chatting and smoking dope with the DJs,'" Genesis' Mike Rutherford said. "'With the birth of MTV, promo became a ... bigger part of our lives, until eventually we seemed to spend more time in TV studios than ... on stage.'"
"'Yes are our idols,' said Fish. 'If they're not going to do that anymore, well, then we're going to carry on doing it.'"
"Marillion represented a neo-progressive movement that the industry didn't seem ready for."
"The age of exaggerated musical ability is back."- Sounds Magazine's Phil Bell on Marillion and the rise of #neoprog in the early 1980s.
"In the 1970s ... you were allowed to have a 1st album that did OK, and a 2nd that did a little better, and by the 4th or 5th album, you were starting to make money," KingCrimson/Asia's John Wetton said. "'In the 1980s, you weren't allowed to do that."
"It was like a revolution, practically, when I heard this record," said Tool drummer Danny Carey of King Crimson's "Discipline." "There were just so many textures that I hadn't heard."
Kurt Cobain has said that King Crimson's "Red" was one of his favorite albums.
"At its best, the genre engaged the listeners in a quest for spiritual authenticity," Bill Bruford said of prog rock. "We took ourselves too seriously of course ... but it never gave way to bitterness, cynicism or self-pity."
"You're in a prison and you've got to find your way out of things. I quite like that." - Bill Bruford, on playing in Robert Fripp's King Crimson.
"We went to Toledo and only sold about 2,500 tickets in a 15,000 seat arena." -John Wetton on the difficulties of touring Asia's second album.
Progressive metal, what bands like Opeth were doing was inventive at the start of the 21st century. "But then progressive metal, like everything else, became a meme" - Porcupine Tree's Steve Wilson
The idea to have the neoprog Porcupine Tree open for #Yes, which was touring a new album in 2002, turned out to be a really bad idea, as Yes fans by that point had little interest in hearing new music. They were just about the nostalgia.
Hoping to get the underfunded band to tour the U.S., "a Marillion fan had invented crowdfunding."
"Some of the nights on that tour, you could see he was in pain." - Jethro Tull's Ian Anderson on Keith Emerson during the ELP reunion tour.
In the 1991 ELP reunion tour, keyboardist Keith Emerson found he had progressive nerve damage, which "could be operated on by not reversed."
For progressive rock bands, Philadelphia was the progrock Mecca, where every band "could find a crowd."
"By the late 1990s, most of the innovation in progressive rock was in the metal genre."
Gentle Giant's Derek Schulman, citing his own experience, advised Dream Theater not to change its sound "even if urged to. Even if groups like Rush and Kansas had gotten pop hits by doing so."
"Prog bands had demo'ed the electronics, pioneered the found sounds and use of empty space. They'd tweaked the synthesizers and parodied the three-minute pop song."
"Rush, the second-wave band that had built a fan base when the press thought it impossible, was the one [progrock] group that never lost its niche. They see-sawed between strange and ironically cool."
"As you can see, Keith's fascination with the more elaborate end of prog rock has lumbered him with a vast array of keyboards. I'll need 200 mules for the journey ... The ELP roadies were sold into slavery in Crete!" - Simon Pegg's Keith Emerson skit http://youtu.be/JwsflF5Fyho
"'I thought it was great' Emerson laughed in an interview. 'I was really quite proud actually. It was almost like they knew me very, very well'" -Keith Emerson on Simon Pegg's skit on him.
"When I talked to first-wave progressive artists, only a few expressed outright contempt for less complicated music. For most, their feelings about punk are rooted in their resentment in the way the record companies of the late 1970s left them behind."
Plagued with depression, substance abuse & the frustration of being unable to play with the same flair as in years past, Keith Emerson committed suicide in 2016. "He lived in the end the very lonely existence of someone who was deeply troubled" -Greg Lake, who himself died later that year
Thanks to a revival in moog synthesizer sales from the techno music boom, Keith Emerson was "canonized by a circuit board"-The Emerson Moog Modular System edition