Dead & Company, Final Tour
Citizens Bank Park, Philadelphia
6/15/2023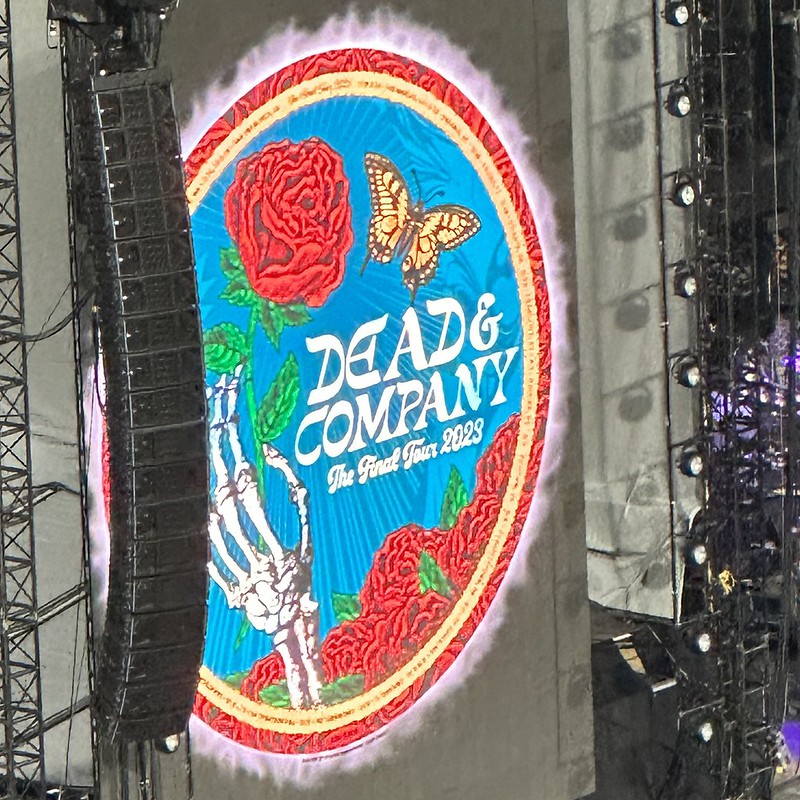 To be honest, I didn't have high expectations of this gig. I had seen the Dead & Co the year prior, almost to the day, at this venue, and was underwhelmed by the blatant commerciality of it all.
This show, however, came as a nice surprise, a great way to end the run of this band, for the Grateful Dead, and maybe even rock n' roll itself. It was an evening of endings, but also, strangely enough, new beginnings.
Touring since 2015, Dead & Co are basically a Grateful Dead tribute band, one led by guitarist John Mayer, who gets to play the dream role of original guitarist Jerry Garcia, who died in 1995, bringing an end to the original Grateful Dead. It technically is a continuation of the Dead, though by now, only guitarist Bob Weir and drummer Mickey Hart are still onboard. The other original members gracefully bowed out, begging off the exhaustive touring schedule. So it's actually Mayer driving things here.
With the original Dead, it was mostly Jerry and Bob trading off their respective songs, so Mayer filling Garcia's role actually makes sense. But, setlist wise, Dead & Co are stuck in an early 1990s time-warp – when the band enjoyed their largest audience–by not introducing any new numbers.
In his other band, Bob Weir & Wolf Brothers still plays Weir's own Dead songs, but churns in new material and expands in various musical directions. It's still an ongoing, evolving entity, unlike Dead & Co, which stayed locked in the past, inflaming nostalgia for the stadium dollars.
That's the impression I got last year, anyway. But this year I went back nonetheless. My childhood chum Chris introduced me to them right here, in Philly, at RFK Stadium in 1987 and I went on to see them at least a dozen times over the following few years.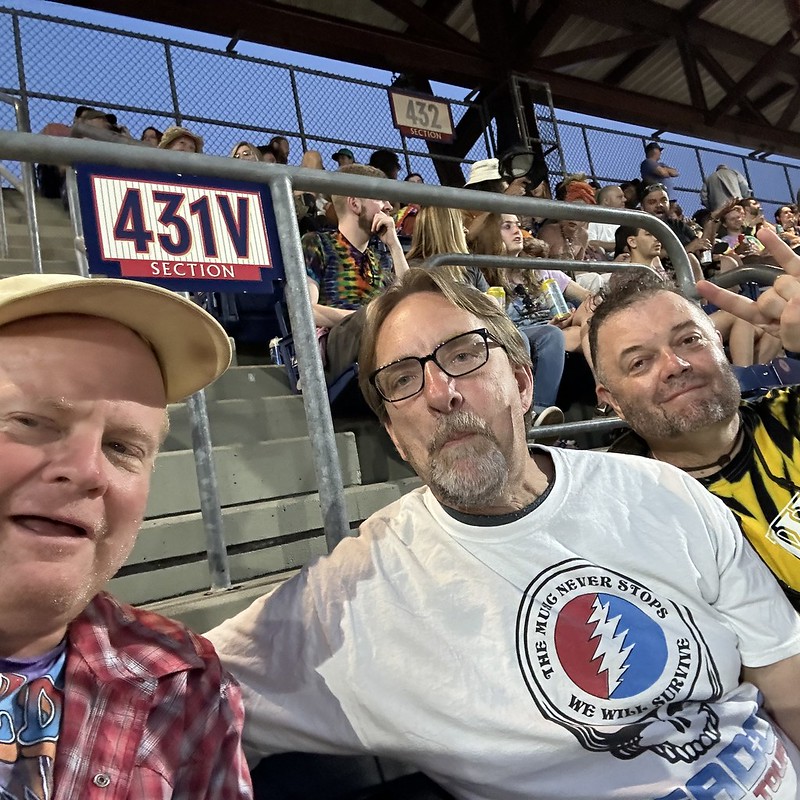 So, this show was the opportunity to catch up with friends, share some memories and bask in the memories of some old tunes.
Chris and his friend Joe are veterans of the Philly sports game circuit, so they know the exact spot in a certain parking lot where to tailgate. Hint: It's off a loading dock, which provides shade and a nice spot to set up a buffet table.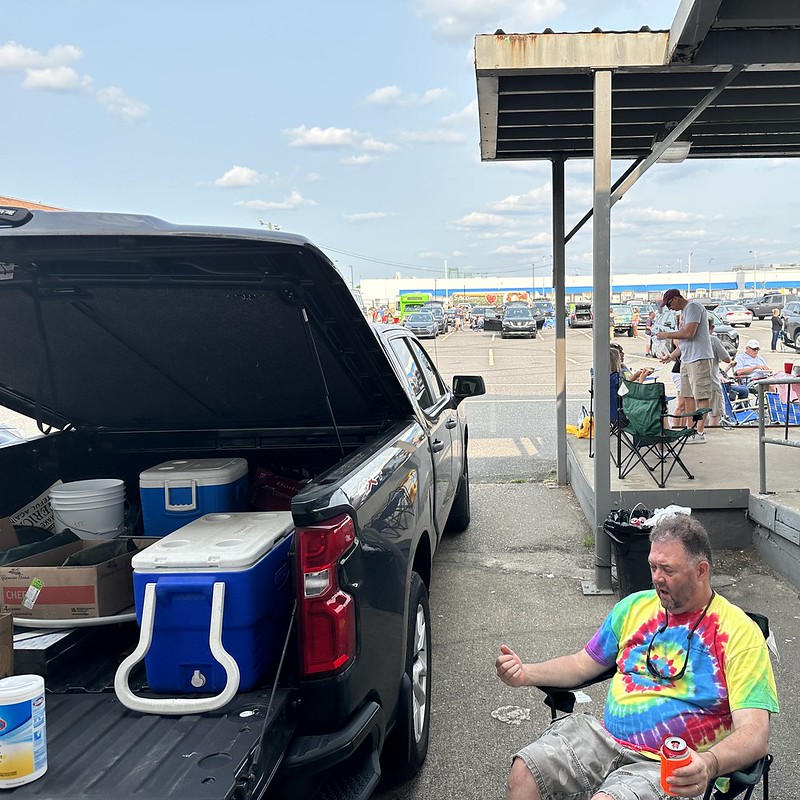 In the hours leading up to the show, we eschewed another tour around 'Shakedown Street' – the section of the parking lot where all the purveyors of T-shirts, jewelry, drugs, nitrous hits ("just say N2-Ohhhh") and other goods and services could be found. Instead, we just enjoyed some bevvies and played some favorites on the Bluetooth.
Chris has gone on to be such a Dead fanatic, that I could play him a random live Grateful Dead track on the Bluetooth, and he could not only guess the year with unnerving consistency, but often even the month and geographic region. (The Dead could get more laid back on the west coast but get all ramped up on the east).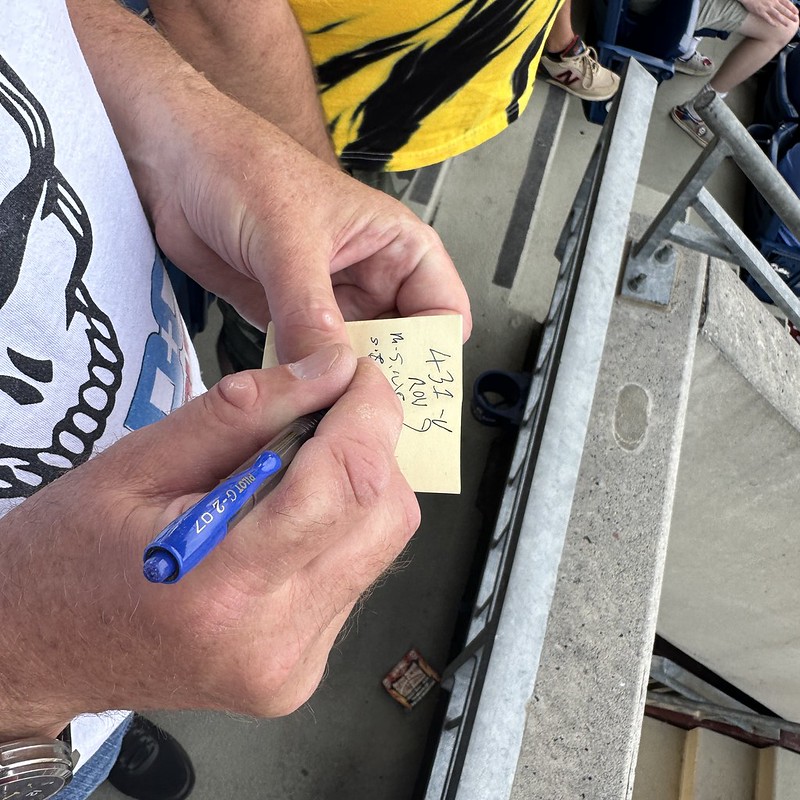 I queued up a 20 minute searing psychedelic jam from 1970, "Viola Lee Blues," which as Chris recalled, was one of the last times the band ever played that song, as they were about to make a major shift into country rock. This song was long, loud and heavy. Back then, the Dead had to share the stage with the likes of Jimi Hendrix and the Who, so they had to keep pace with the feedbacks and the musical freakouts.
Then there was the epic "Eyes of the World" a recorded four years later at the Iowa State Fairgrounds of all places. It was part of a 6 hour show that utilized the band's short-lived "Wall-of-Sound" speaker setup.
This song starts out in a flakey singing-around-the-campfire vibe, then lifts off into space with a groove that jumbles up into discordant free jazz, before settling into the country classic "Big River." Over 26 minutes, it's a jam as large as America itself.
We discussed this tune quite a bit, and later, I found a summary from someone who claimed to be at that show that just blew my mind:
It was a beautiful June day. Big puffy white clouds marched across the sky all afternoon. When a cloud covered the sun, the band would go into a modal scale. The crowd would all sit down and the dancing would nearly cease. Then the Sun would come back out and the band would switch back into a 12 tone scale. The crowd would rise back up and the dancing would begin again. This went on all afternoon. It was almost like the band was playing the crowd.
Maybe that actually happened, or maybe someone in the crowd, or maybe the whole crowd, thought that something like that was happening, who can tell? At its best, the band always had some crazy mystical connection to the audience. In one show I remember, they played a song "Ship of Fools" that had the whole crowd swaying back and forth, as if their entire damn stadium was a gigantic ship.
Chris also turned me onto "Hard to Handle," an old R&B cover I never paid attention to. But the version they played on this San Diego night in the 1971, was absolute fire. According to the Dead folklore, Pigpen, a.ka. Ron McKernan, who sang the song, launched into a James Brown dance that got the crowd moving, which in turn, inspired the band into a frenzied funk jam.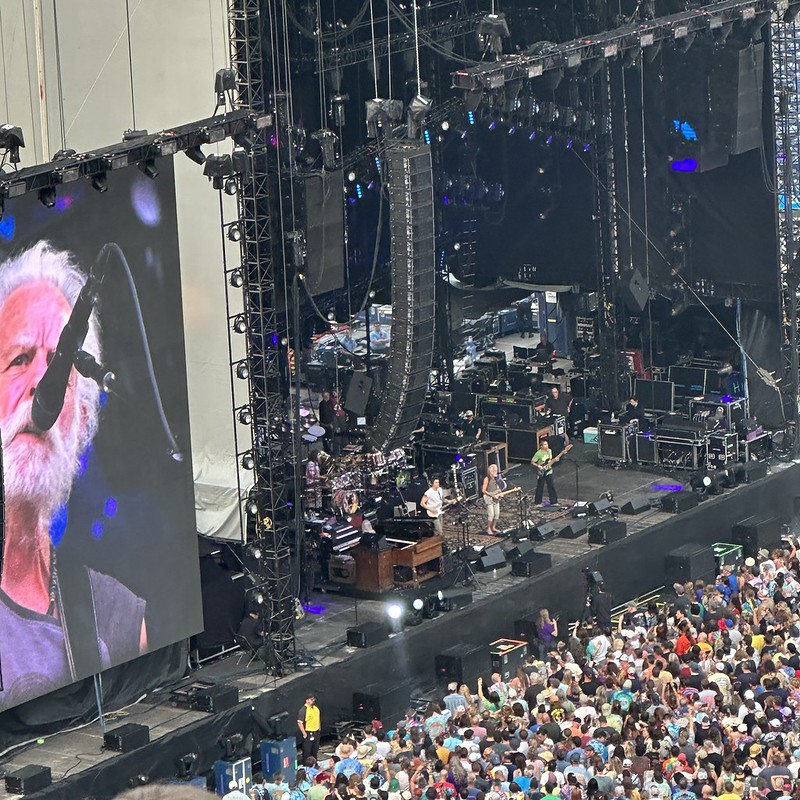 They'd only perform this song twice more, as Pigpen would soon retire from ill-health shortly after (he died in 1973, at 27, the universal age at which rock stars apparently find out how long their youthful stamina can be abused into submission).
Tonight's show was surprisingly inventive for one being billed as part of "The Last Tour." You figure they'd just be wrapping things but they came with some fresh arrangements to old classics. As per the Dead tradition, they found new roads to travel with old songs.
"Shakedown Street" got extended into the full-fledged yacht-rock jam it always promised to be.


"Eyes of the World" was revived and reconfigured for the future, as was "New Speedway Boogie," a toss-off written 1970 about Altamont. This version seemed anthemic, calling for a way out of the darkness:
After this tour, no doubt Bob Weir will continue to gig (he's claimed that he's been on stage more than any other musician at this point), but this might be the last time many of these numbers, especially those written by Jerry, may ever get played. Could this be the last time for "Dark Star" or "Brown-Eyed Woman," or even "Fire on the Mountain"? If so, they all went out on strong notes.
These songs will live on, of course, through the thousands of Dead cover bands that seem to infest this country, but not by any sort of "official" Grateful Dead entity.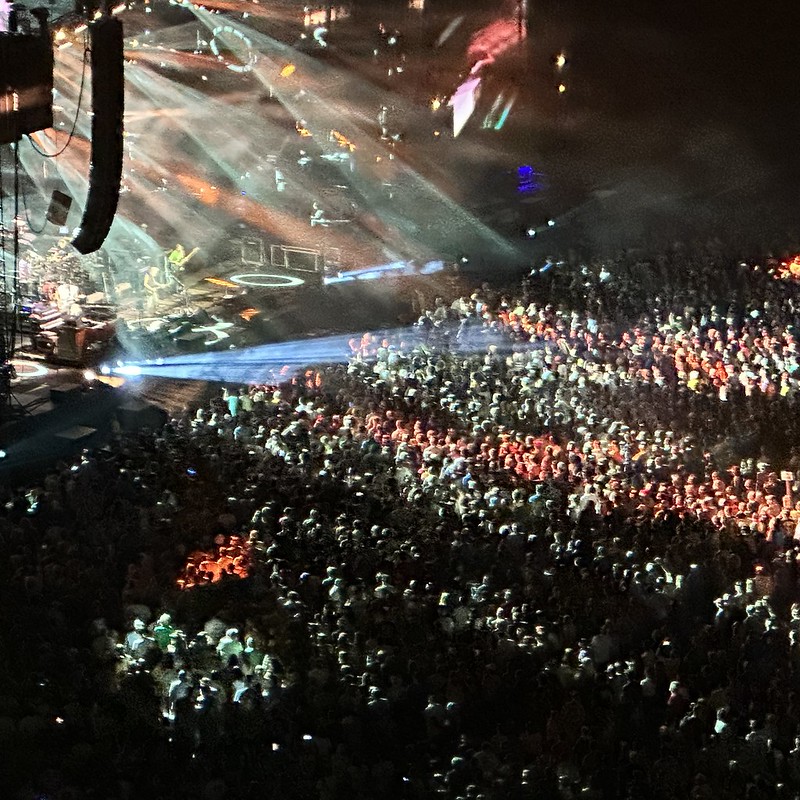 The versions tonight may not be the definitive ones, but they are fresh versions. They tell their own stories, and that's the best way for them to live on.
All through "Estimated Prophet" Chris kept yelling "Rock n Roll!" And it was true, the band was on fire, even though the song is in the reggae-ish 14/8th time. They sounded almost, but not quite, out of control, playing the song slightly differently than the hundreds of times it was played before.
Later Chris lamented how kids today won't ever get to experience this sort of thing. Of course, they'll still pack the stadiums for the likes of Taylor Swift, but could this be the end of hippies playing live on stage in front of a stadium of stoned dancers – the rock n roll show where not everything is choreographed, where everyone is looking for something magical to happen and the road ahead is still wide open with possibilities.