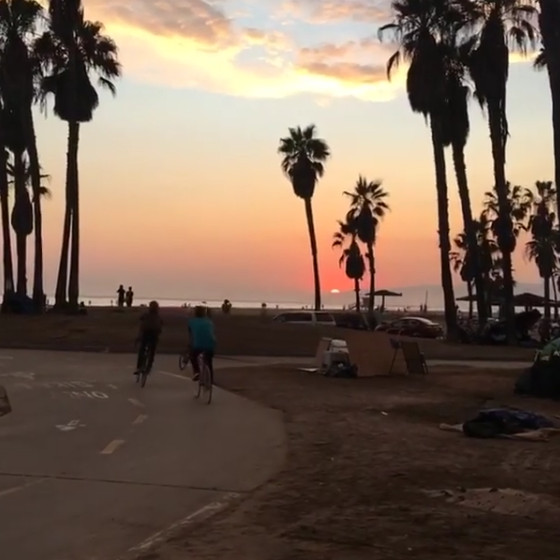 Labor Day weekend I was in Venice Beach, and didn't do much of anything. I napped on the beach, ate Cheerios, and got my Zen on. I procured and then sun-and-surf faded a baby blue Venice Beach tee. I knew no one there; I was completely anonymous. It was my three favorite days of this past year.
Roaming about, I found a $240 backpack that promised to survive out the remainder of my travels on this planet, as well as, for $1.50, a 1970s-stylin' cream blazer from the Santa Monica Goodwill. For $1.50! I rode the city's backsides by bus, helplessly wandered through the Museum of Jurassic Technology in a haze, and, when darkness fell, witnessed the Hollywood Hills ablaze.
Like I said, a lot of empty space in my head that weekend. And a lotta music in Old Duder's head. L.A. Music. The Birth of The Doors came from Jim Morrison meeting Ray Manzarek on Venice Beach. On the first dry-heated afternoon I flopped down on the squeaky bed of my low-rent AirBnB crash pad, I heard how the cars that hissed by my open window did indeed sound, as the Lizard King prophesized, like the waves down on the beach.
And when I'd wade out into the water and listen to these waves, I'd hear how Brian Wilson arranged the harmonies of the Beach Boys to roll up on the shores, or stretch out across the horizons, of his songs. The Beach Boys grew up 12 miles southeast of Venice, in Hawthorne, though Beach Boy drummer Dennis Wilson lived out the last few years of his troubled life in Venice Beach. Today, Brother Brian's best songs sound so full of promise when you're young and yet burst with nostaglia if you are old.
So, PLAY LOUD: