Welcome to the Machine: NYC Pulse 2015
March 5, 2015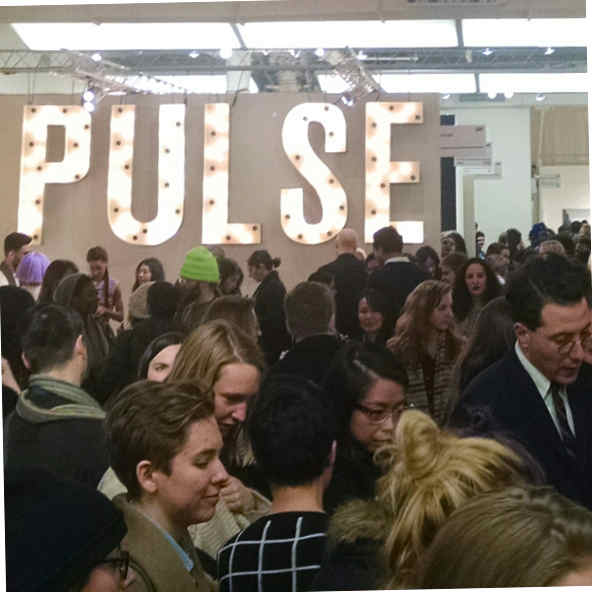 I don't know much about art, but I do know a little bit about LP covers. I grew up way before YouTube, and even before MTV, which is to say I came on the scene before music was routinely packaged with visual accompaniment.

Those days, when you bought an album, you took it home, put it on the record player and just listened. If you wanted visuals, you scanned the LP cover looking for clues that would help you better understand the strange music coming off the stereo.

Which is why, at this year's Pulse, I gravitated to the oil paintings of J.P. Roy. Though he studied fine art at the New York Academy of Art--and now teaches there--his work reminded me of those ostentatious, trippy album covers from progressive rock-era British bands of the 1970s, especially those jackets created by Roger Dean or the Hipgnosis studio.

Roy carries that vibe forward to 2015, intensifying it even further. He brings the flamboyant colors and surreal landscapes of Dean, but mixes them with Hipgnosis' tendency to juxtapose a crisp frame over something utterly bizarre: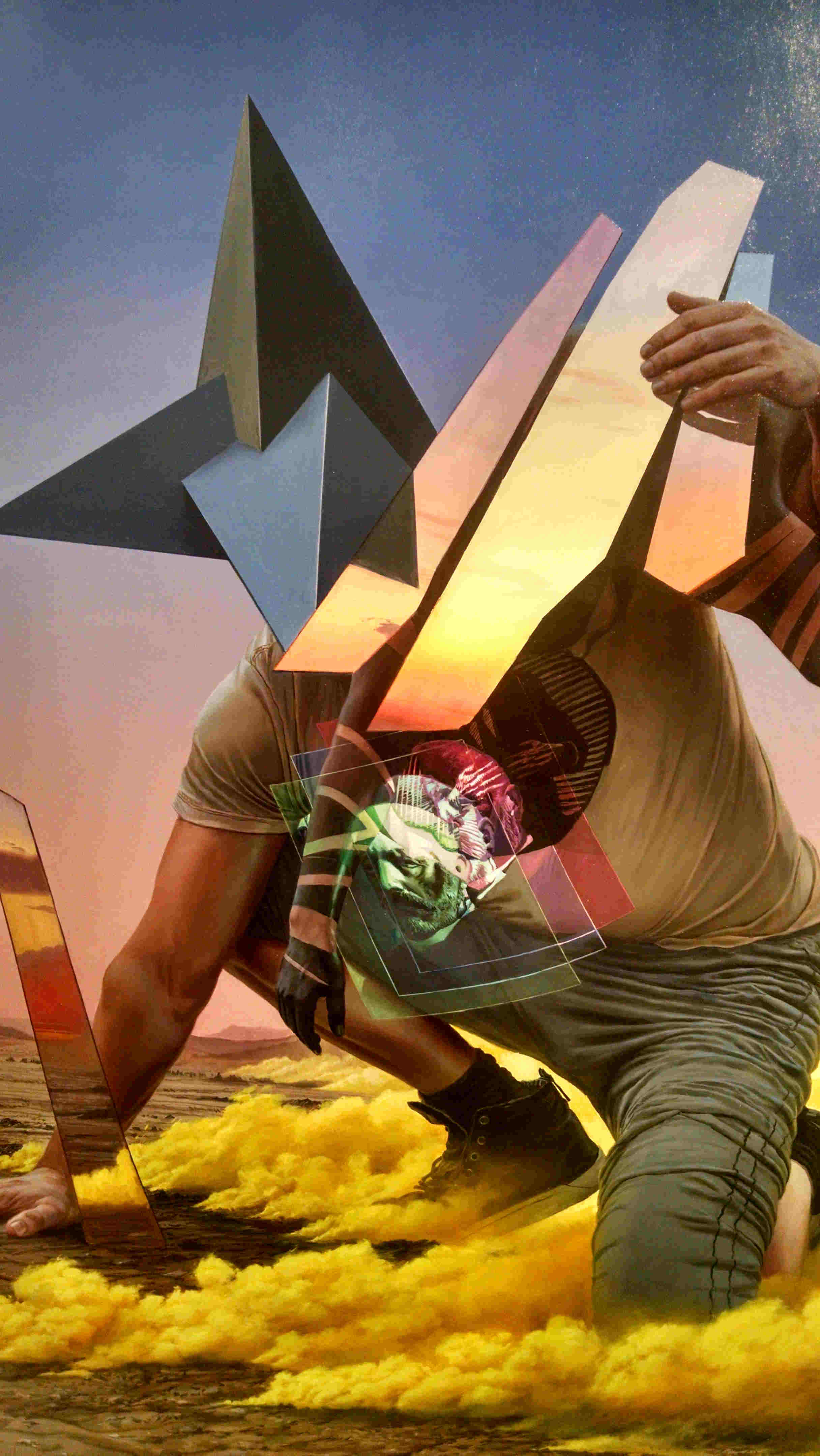 The worlds being represented by Roy are not set in the distant future, nor in some hidden past. They could only exist outside the current space-time continuum, some locale driven by an entirely different set of physics.

Jean-Pierre has said that his work is meant to place the viewer into a moment "where the natural world has reorganized itself into a beautiful, terrifying, and unfamiliar system of forces."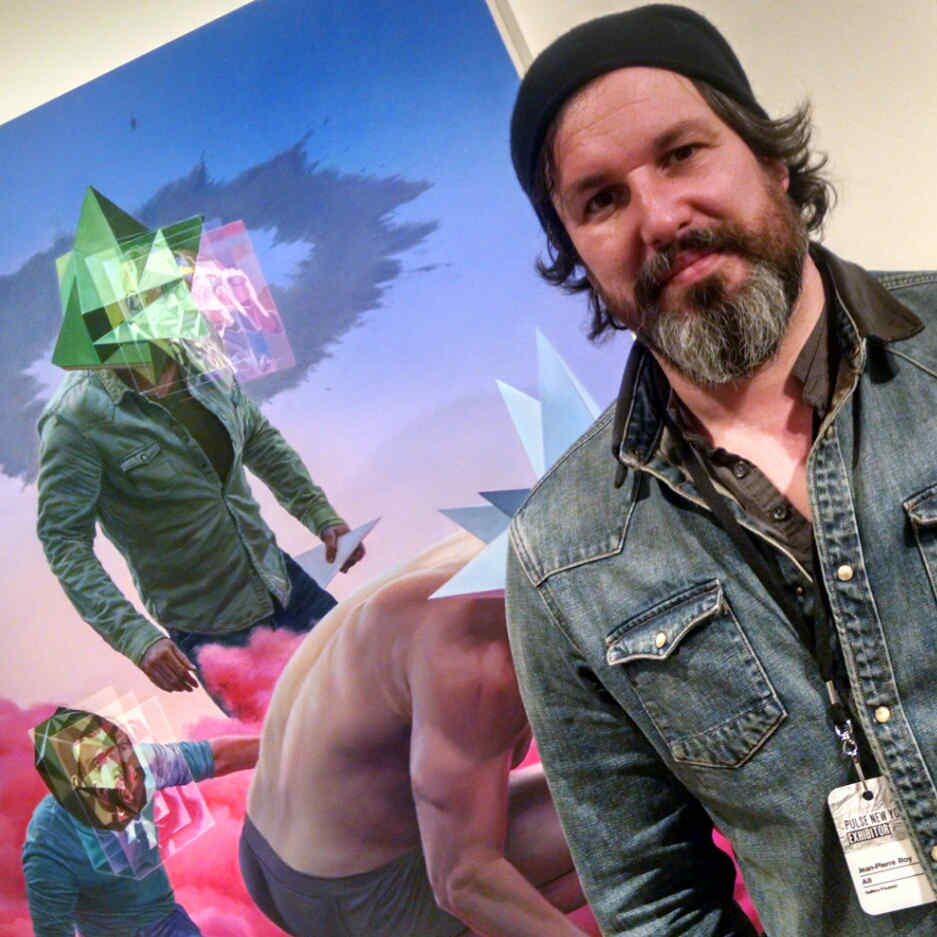 "Well, you may not know much about art, but you get where I'm coming from," the burly Roy told me at the show, with a "Big Lebowski"-like coolness. He grew up on those album covers as well; they are in his DNA now, he said.

Pink Floyd could do worse than to get Roy for their next album cover.

Postscript: Someone else who got JP Roy was Leo DiCaprio, who bought the painting above, Nachless.

The trick I've found to get the most from gallery openings is to not worry about what you don't understand. As long as you keep a contemplative mind, you'll find something to enjoy.
There wasn't a shortage of mind-buggery at the show: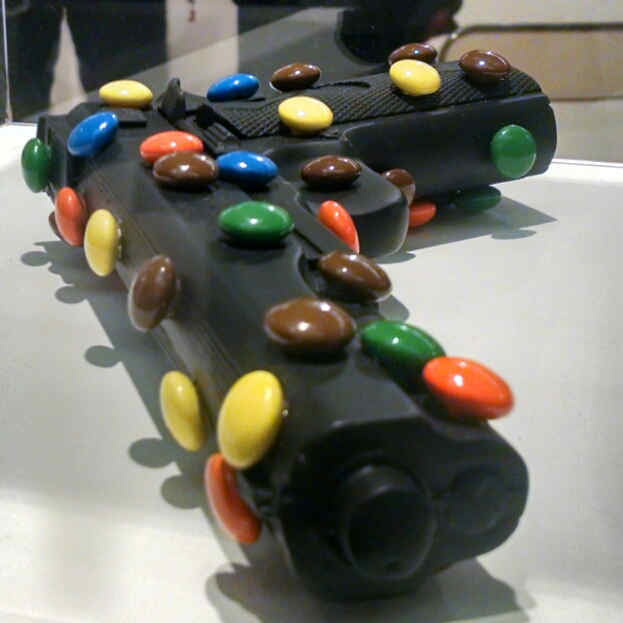 What did Chekov say about how once a writer makes a reference in a novel about a gun speckled in M&M's? From Darren Lago.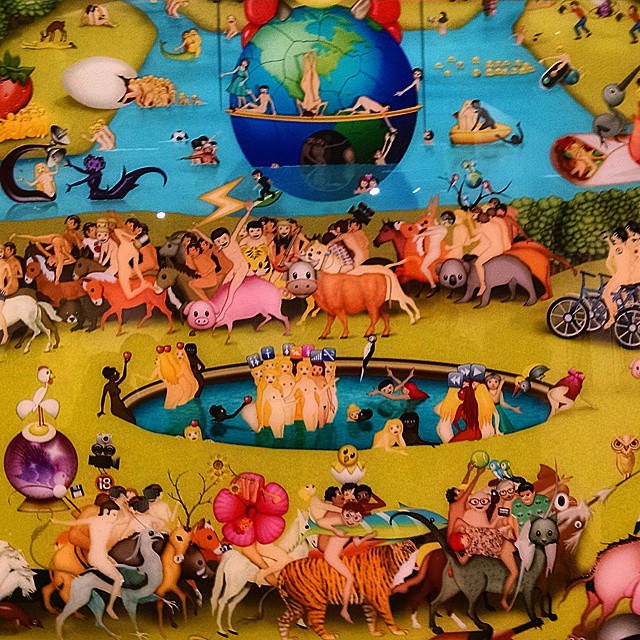 Ever get the feeling that Hieronymus Bosch would have felt right at home on the Internet? "Why Didn't I think of this first?" was what a lot of people said when they first saw Carla Gannis' Garden of Emoji Delights (detail).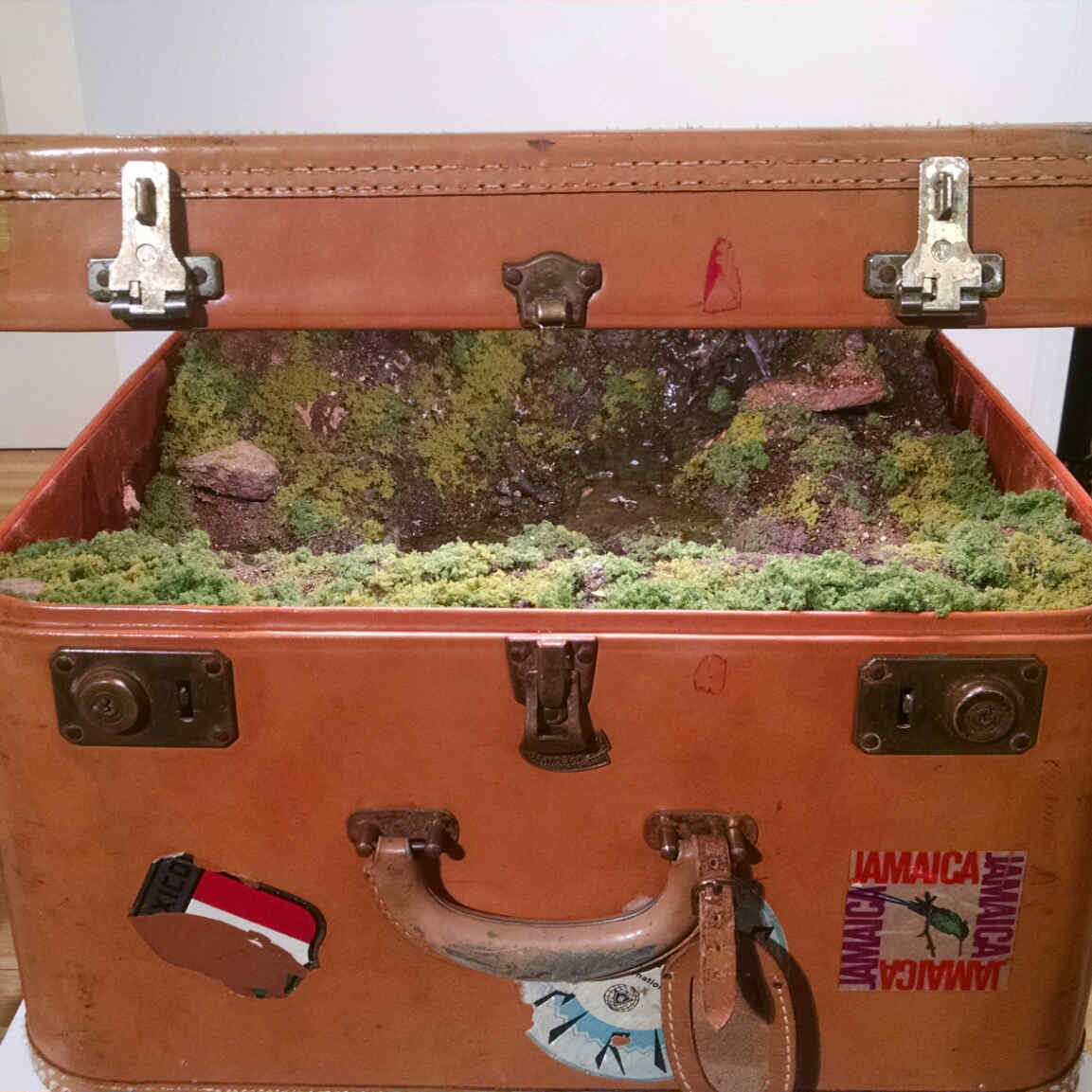 Kathleen Vance's Traveling Landscape.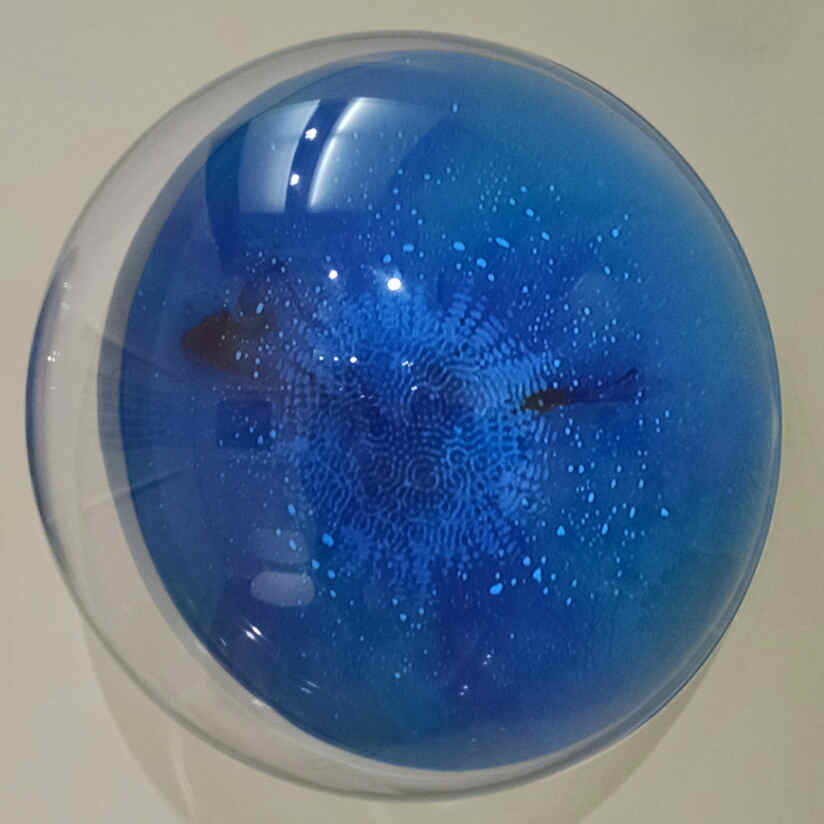 Katja Loher made symbolic video loops about environmental issues and built delicate and beautiful one-off viewing devices to show them. She calls them video portals.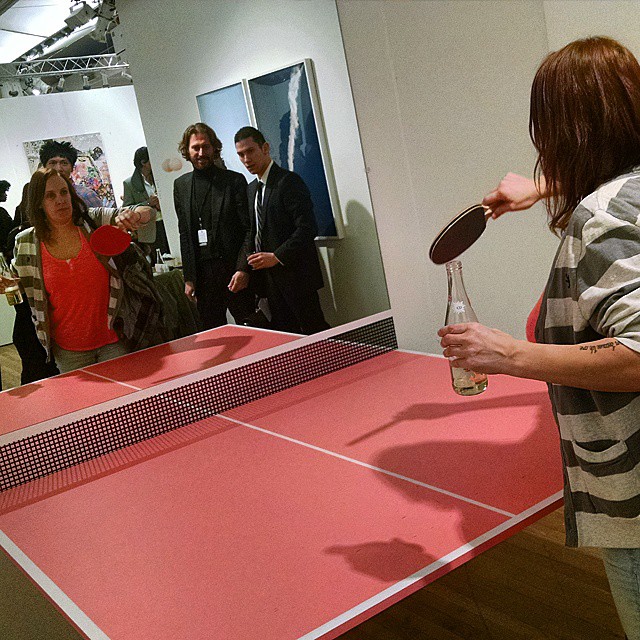 Renalto DaGostin's "Win-Win" provided the unique experience of playing ping-pong with your very evenly matched doppelgänger.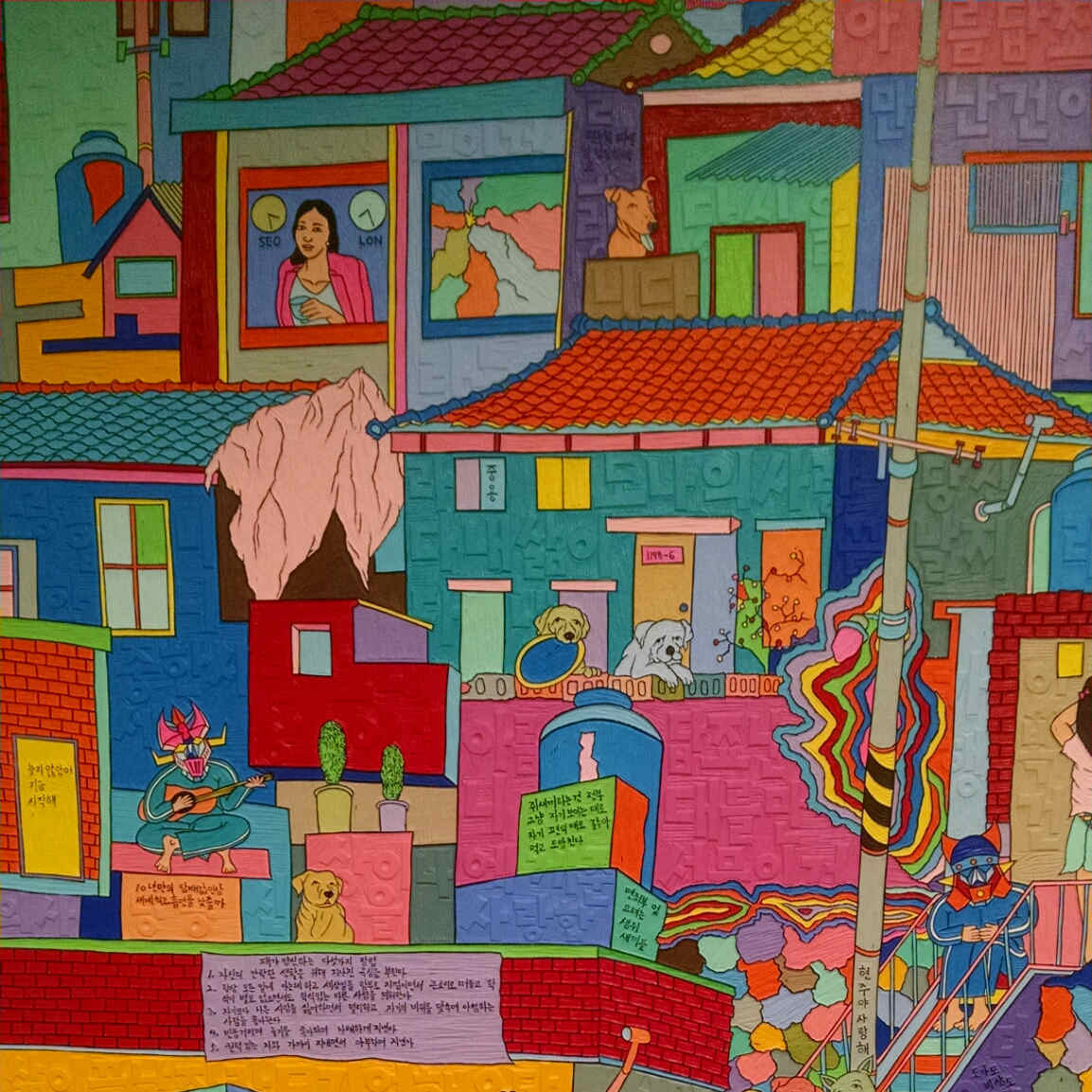 We weren't sure what story Tae Jin Seong was telling in I Am Happy --though one patron tried to decipher it using Google Translate--but it looked epic (detail).
Ye Hongxing's towering mandala of modern life.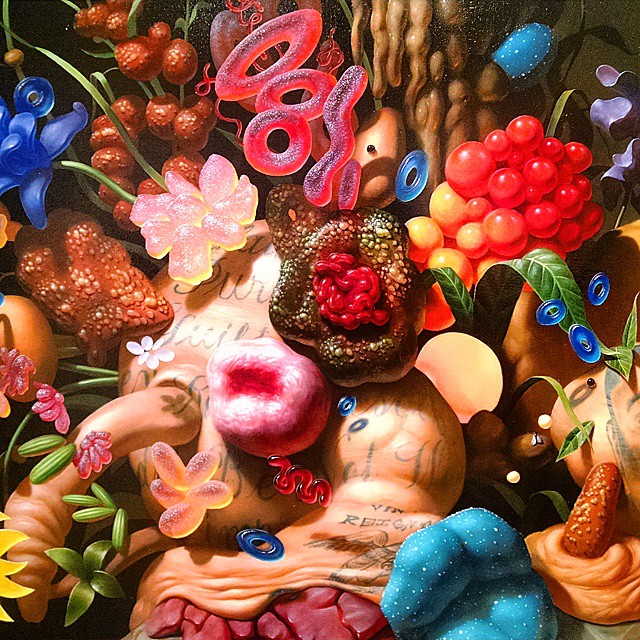 The inscrutable Biggie Patch Kidney P.I.E. from Christian Rex van Minnen: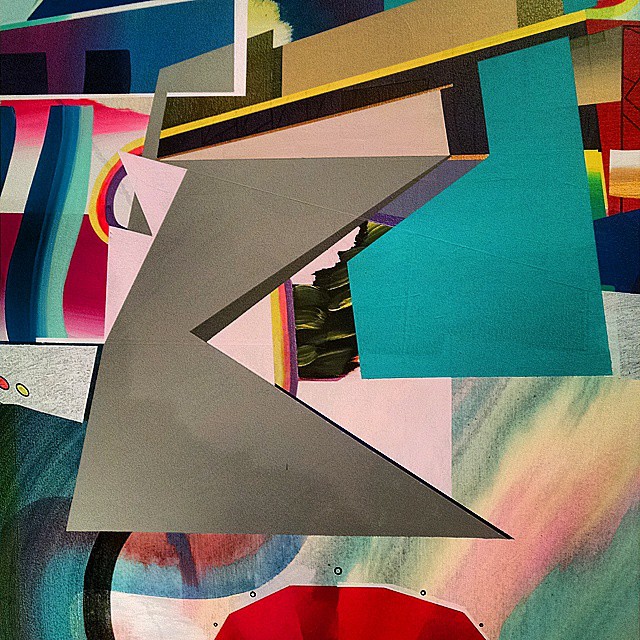 A Danny Ralph abstract.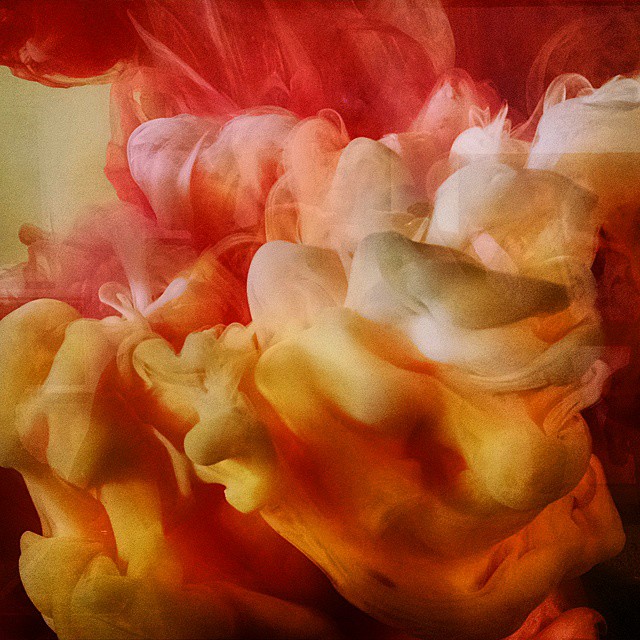 Kim Reever's billowy paintings.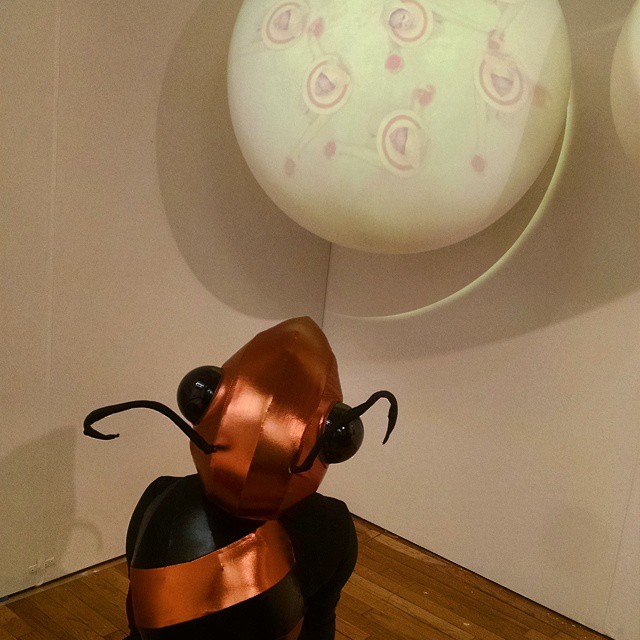 A human ant (a number of which scampered about the booth), watching one of Katja Loher's video portals.
Pulse is an art fair held once a year in NYC and Miami. In NYC this year March 5 - 8, it was part of the Armory Arts Week, and featured more than 50 galleries.