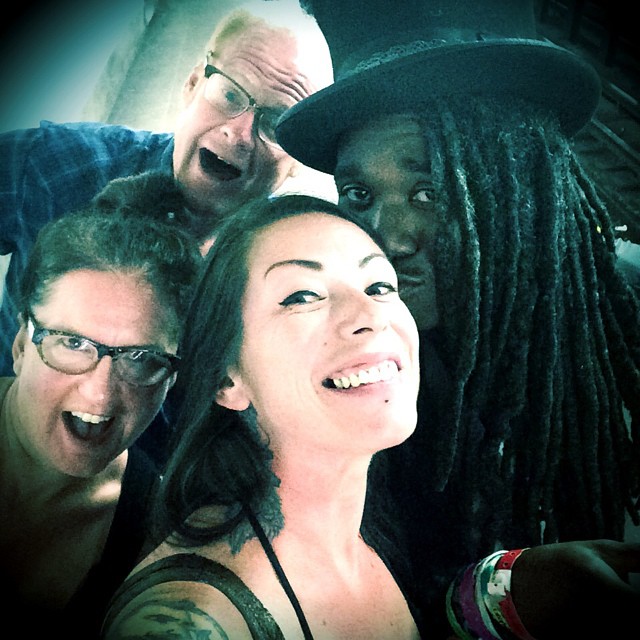 ---
Description: Whenever a situation needs to be goosed a bit, Tania calls in the Mayor of Williamsburg (Not an actual elected official). He's on the right in this photo, the handsome gent with the dreadlocks and top hat.
We took this group selfie, above, after leaving the Three of Cups, an East Village dive lounge occasionally haunted by Lady Gaga, so someone said. It's downstairs from the fancy Italian restaurant of the same name.
A lady passing by on the station ramp advised us to open our mouths wide when we get our photos taken, because it always makes one look happy. We look like we're starring in a sitcom from the 1980s.
Each Halloween, the Mayor of Williamsburg makes the rounds dressed as Rick James, to great effect. He even waxes his chest. Given a pair of sunglasses, the Mayor can channel Stevie Wonder. TraDo'n, as his friends call the Mayor, can also do a mean James Brown. His full-bodied Brown-esque "Git It!" can unsettle a subway car full of weary rush-hour riders, we discovered. The Mayor is a man who operates at a high velocity, in public at least.
TraDo'n knows all the parts of "We are the World" – exactly how Michael Jackson, for instance, delicately sings "When you're down and out and there seems no hope at all," and how Huey Lewis raspily responds "But if you just believe, there will be no way we can fall."
Though not a complete believer in the sentiment Huey so forcefully expressed (I mean there are external factors that could cause one to fall, no matter how hard one believes), I nonetheless tried to replicate Huey's part in my hoarse voice, just so the Mayor could intone Michael's more beautiful part beforehand. This impromptu performance of "We are the World," repelled passers-by to a frightful degree.
TraDo'n brings the same level of scrutiny to James Brown's "Living in America," a latter hit for the Brown, and probably not his best, even TraDo'n admits. Yet, TraDo'n articulates each line as if it were gospel, which it is. "Living in America" brings back memories of my drives across the U.S. in 1986, stopping only for gas and "black coffee and a hard roll" at the rest stops. It's a song about how the highways of the country tie together America, which Brown spent decades traversing.
This is also the song that Brown digs at Eddie Murphy ("Eddie Murphy, eat your heart out!"), and so it was only a matter of time before we were singing, in our own best James Browns: "Too hot! .... in the hot tub!"
Location: First Avenue Station, L line, New York City.
Keywords: New York, nightlife