Soundtrack of My Life, June 23, 2019: Time and a Word
Notes:
Yes ("Royal Affair Tour") Saturday, June 15, 2019, Hard Rock Hotel Casino, Atlantic City,
: A strange one. It's good to see old codger Steve Howe on guitar, nimble at 72. Howe kept his pace with his juniors on stage with him, not backing down from any of the sophisticated arrangements from Yes' headiest mid-70s days.
By this point you could say this was Howe playing with a really good Yes tribute band, but even these acolytes have been in the band for years, if not decades (the seemingly bathrobe-clad bassist Billy Sherwood on and off for 20 years now). Even current keyboardist Geoff Downes (co-author of "Video Killed the Radio Star") was brought into the band in 1980 to replace Rick Wakeman, for the second time, after Patrick Moraz replaced Wakeman the first time.
Too bad distinctive Yes vocalist Jon Anderson hasn't been with the band since 2004. He's doing his own jaunt across the country promoting his decades-in-the-making progrock superstar-studded " 1000 Hands." Good on him I guess. Drummer Alan White, who started with Yes in 1972 and more less stayed with them since, came out for a song or two, including a nice Yes-esque version of John Lennon's "Imagine," which he originally played on a year before he joined Yes. The comfy-looking Sherwood did teach me how integral Chris Squire's beefy and twisty basslines were to the band. Squire was the only Yes member to play in the band, also more or less, continuously from its start until his death in 2015.
Yes' personal changes are almost as complicated as the the band's songs themselves!
New stuff I love about Yes music that I picked up from this show: The way "
Gates of Delirium
," starting at the 14-minute mark, falls thunderously and then gently into its elegant last movement, "
Soon," 2: The sleek "
Siberian Khatru
" and
3:
the spacey, eternally hopeful "
Onward
," salvaged from the 1978 "
Tormato
."
4:
A Song they did NOT play but I fell in love with anyway, the atypical and very Neu!-esque, "
The Fish (Schindleria Praematurus)
"
That the Yes show was held in what seemed to be Atlantic City's sole working casino, within a good-sized but half-filled hall, felt surreal. It suddenly occurred to Steve and I after the first of what would be a cavalcade of 60s pop star openers that no one was actually checking tickets, so we pretty could, and did, bluff our way down to the second row.
Sad to say, the openers could all have filled areas 40 years ago, like Yes did. The Moody Blues for instance. Lead singer John Lodge now looks like someone's grandmother. "Like his face could be on a pie box," Steve said.

The seemingly ever youthful Carl Palmer lead through a warm-up show that played his former bands Emerson Lake and Palmer, and Asia (and Asia playing ELP songs). He also brought out the once-notorious Arthur Brown to play his still-fiery 1968 hit, "Fire." "Who dug HIM up from the grave?" a fellow concert-goer groused.
After the show, we wandered out to the boardwalk and found a local outfit, "Dr. Phil and The Heart Attacks," tear up some Neil Young and Tom Petty. This felt more like authentic Atlantic City.
Back inside the casino, I learned Pete Ham's tragically prophetic solid-silver guitar pick.
Under glass, in the casino's rock n' roll "Memorabilia" exhibits, was a solid silver guitar pick, designed in 1971 for Badfinger's lead singer Pete Ham by May Pang. After the Beatles broke up, the hippie underground swirled with rumors that Badfinger were the Beatles in disguise (listen to "Day After Day").
Pang would later become John Lennon's girlfriend during his non-Yoko "lost years." Four years after Pang forged this pick, Ham hung himself. Funny she oriented it like a gravestone. Or maybe she saw into his troubled soul...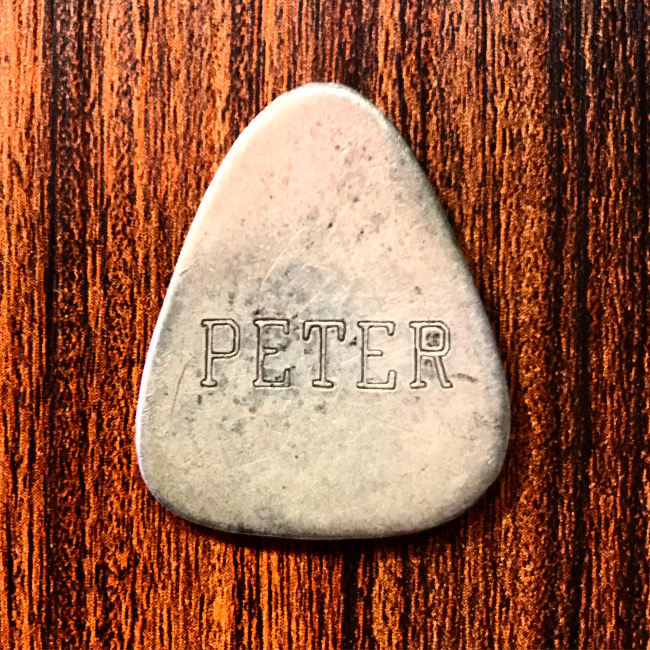 Oh, the time is "now," by the way, and the word is "love."
Other shit I listened to that week...
Top Artists
| # | Artist | Tracks Played |
| --- | --- | --- |
| #1 | Willie Nelson | 175 |
| #2 | Yes | 50 |
| #3 | J.J. Cale | 36 |
| #4 | George Jones | 16 |
| #5 | Steve Roach | 16 |
| #6 | Radiohead | 15 |
| #7 | Ray Wylie Hubbard | 12 |
| #8 | Neil Young | 11 |
| #9 | Alison Krauss | 9 |
| #10 | Alicia Keys | 8 |

Top Albums
| # | Name | Artist |
| --- | --- | --- |
| #1 | One Hell Of A Ride | Willie Nelson |
| #2 | Grasshopper | J.J. Cale |
| #3 | The Very Best Of Willie Nelson | Willie Nelson |
| #4 | Fragile | Yes |
| #5 | Nashville Was The Roughest | Willie Nelson |
| #6 | Time and a Word | Yes |
| #7 | American Stars 'n Bars | Neil Young |
| #8 | The Early Years 1965-1972 | Pink Floyd |
| #9 | Live | Alison Krauss |
| #10 | The Road to Escondido | J.J. Cale/Eric Clapton |

Top Tracks
| # | Song | Artist | Times Played |
| --- | --- | --- | --- |
| #1 | Fish (Schindleria Praematurus) | Yes | 7 |
| #2 | Fat Old Sun (BBC September 1971) | Pink Floyd | 6 |
| #3 | Time and a Word | Yes | 5 |
| #4 | Gates of Delirium | Yes | 4 |
| #5 | Ritual Nous Sommes Du Soleil | Yes | 3 |

Previous Weeks