Soundtrack of My Life, May 19, 2019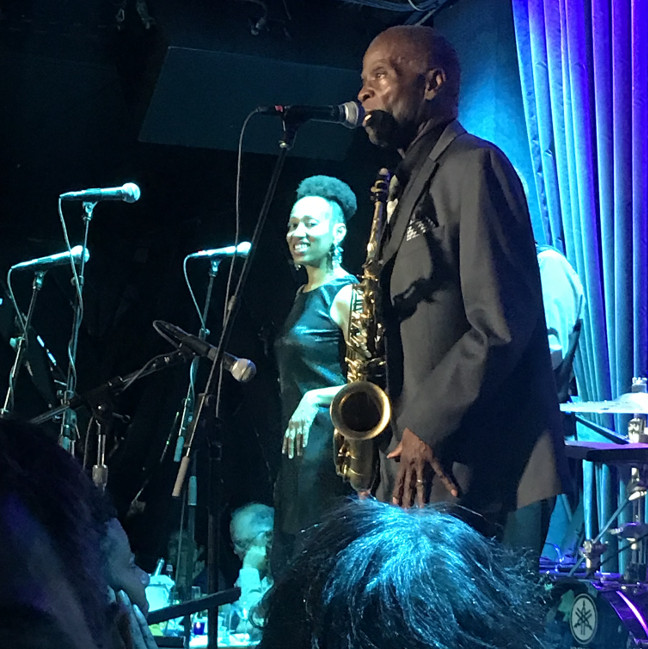 Maceo Parker, The Blue Note, May 12 2019
: Like with many of the luxuries he acquired at the height of his power in the late 1960s/early 1970s,
James Brown
assembled his band from the finest players he could get, and then drove them hard. Oftentimes, they would roll into a studio to record an album after a performance. They'd set up a groove and Brown would literally improvise a song on the spot."Take it to the bridge" was no mere lyrical hook, it was an instruction for the band, which had to comply within the next few beats.
Saxophonist Maceo Parker
, then a young man, was part of this crew and on some recordings you can hear Brown call out "
Maceo! Blow your horn!
" And Maceo would whip out a tasty riff...
With his relentless touring schedule and now a full discography, Parker picked up more than a little of Brown's obsessive work-ethic, not to mention the man's need for the hottest musicians. After a time as Brown's right-hand man, Parker joined Parliament Funkadelic just in time to land the Mothership. Decades later, he helped Prince through a 21-night stand in L.A. Today, he is the keeper of the OG funk, the South Carolina variety, similar but leaner than New Orleans. He also does a pretty mean Ray Charles cosplay.
All Parker's players were sublime, though a serious tip of the snare to the rhythmically emotive Nikki Glaspie, who also beats the skins for Dumpstaphunk. Usually I'm not one for the drum solo, but I could watch her play all night long...
Multimedia:
Here's all the other stuff I listened to that week:
Top Artists
| # | Artist | Tracks Played |
| --- | --- | --- |
| #1 | J.J. Cale | 115 |
| #2 | Maceo Parker | 95 |
| #3 | Radiohead | 43 |
| #4 | Harry Nilsson | 28 |
| #5 | Skeeter Davis | 18 |
| #6 | Solange | 18 |
| #7 | Microstoria | 17 |
| #8 | Eluvium | 14 |
| #9 | Pink Floyd | 13 |
| #10 | Ike & Tina Turner | 12 |

Top Albums
| # | Name | Artist |
| --- | --- | --- |
| #1 | Sol-Angel & the Hadley St. Dreams | Solange |
| #2 | 5 | J.J. Cale |
| #3 | Curious Things | Eluvium |
| #4 | Guitar Man | J.J. Cale |
| #5 | Okie | J.J. Cale |
| #6 | model 3, step 2 | Microstoria |
| #7 | Live In London | J.J. Cale |
| #8 | Dial Maceo | Maceo Parker |
| #9 | Life On Planet Groove | Maceo Parker |
| #10 | Funky Music Machine | Maceo Parker |

Top Tracks
| # | Song | Artist | Times Played |
| --- | --- | --- | --- |
| #1 | Friday | J.J. Cale | 13 |
| #2 | I Got You (I Feel Good) | Maceo Parker | 4 |
| #3 | Shake Everything You've Got | Maceo Parker | 4 |
| #4 | Time | Pink Floyd | 4 |
| #5 | Anyway The Wind Blows | J.J. Cale | 3 |

Previous Weeks