Soundtrack of My Life: Door into Summer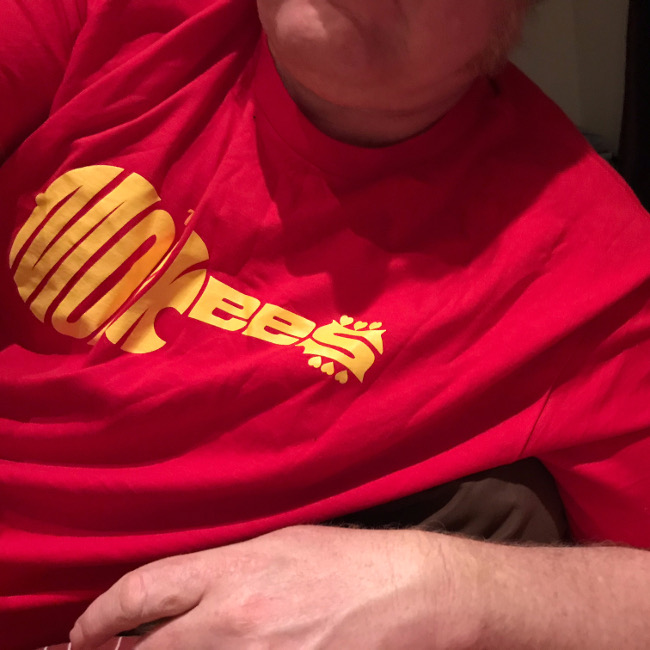 The week ending March 17...
Notes: The problem with the idea of admitting The Monkees to the Rock n' Roll Hall of Fame is who, exactly, would they induct? Show creator Robert Rafelson? Cool dude, but really, though, he's a Hollywood guy (He used the windfall from "The Monkees" to finance his next project, "Easy Rider"). The four actors? Though they brought considerable personality (and in Mike Nesmith's case, a good number of songs), they were not at the center of the operation.
Commissioned in the most mercenary way, "The Monkees" project (originally conceived a TV show about a fictional band) nonetheless brought the best NYC Brill Building pop songwriters (Gerry Goffin and Carole King, Barry Mann and Cynthia Weil, etc.) together with the nimblest L.A. session musicians ("The Wrecking Crew") --all of whom felt the competitive heat from across the shore. The Byrds (Hall of Fame, 1991) purloined a few songs from this NYC bench too, and helped themselves to some of the west coast session talent as well. That session wiz Carole Kay provided that iconic loping bass line for "California Girls," and not in-house group genius Brian Wilson, only makes The Beach Boys story that much more awesome. But sure, Jann, tell us how the Monkees weren't real rock n roll. Whatevs.
I grew up a believer. By the late 1970s, jangly lightly-psychedelic guitar-based pop rock -- catnip to a music-hungry 12 year old back in the day -- was not to be found: AM radio was awash in maudlin, decidedly un-rocking, blue-eyed soul and FM was still a mystery for me. But every afternoon, after school, I soaked in the spiritedly jangly pop of this pre-fab four, courtesy of the repeats. This was basically my introduction to rock n roll. Oh sure, in the years since, I've come to objectively see the Beatles' "Sgt. Pepper's Lonely Hearts Club Band" (1967) as the far superior album, but I've spun "Pisces, Aquarius, Capricorn & Jones Ltd," released that same year, a lot more. Objectively speaking.
So a Monkees reunion tour that featured only (the somewhat reclusive) Mike Nesmith, and Micky Dolenz held a lot of interest ("The Monkees Present the Mike and Micky Show," Beacon Theater, NYC, 2019-03-09), at least for those of us who grew up on the more rock-side of this outfit. Indeed, a lot more attention was paid to the music in this go-round, compared to when I saw them at the 9:30 Club in 1987 for their first reunion, sans Nesmith, but with Jones. Music accompaniment for that show sounded like a professional afterthought, it seemed.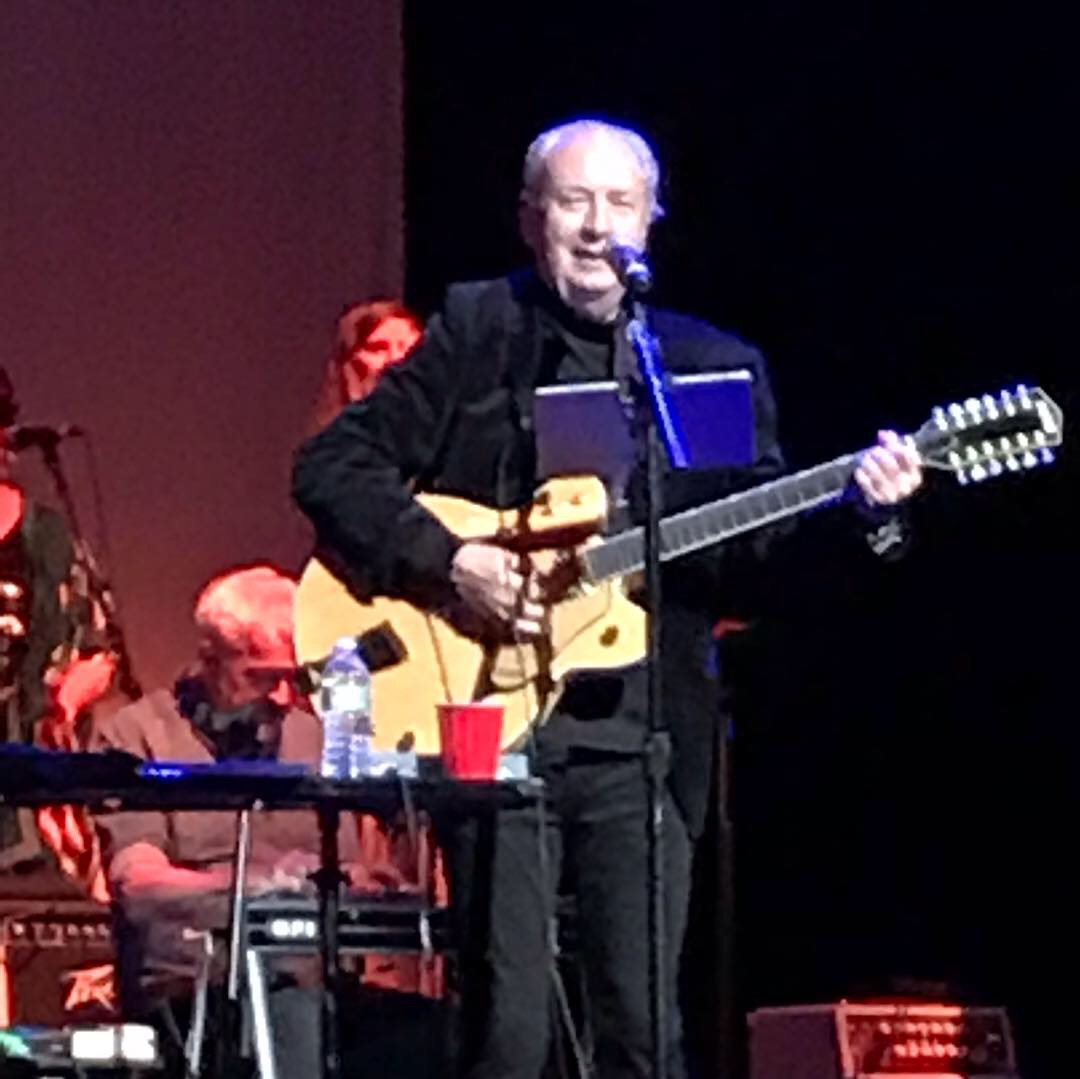 Not to say Davy Jones, an English show hall pro since youth, was a distraction. We all love Davy. By all accounts, he was the most decent of the four during their rock star days. But real talk, the songs he was fitted for veered more towards soppy, cynically contrived, love ballads.
Even from the first album (1966), Nes bought a simple jolting electric country, and though Dolenz was more the actor, he quickly worked out a smoothed-over but immediately-recognizable James Brown-esque vocal style, and delivered it straight into the heart of white suburban America, through the Boob Tube (the precursor to YouTube).
(The other musician of the bunch, Peter Tork, had recently passed away, and was represented at the show by a bittersweet video of him singing and strumming an electric guitar at home).
In contrast to the 1987 shows, the arrangements of the songs here were gorgeous and well-articulated, a wonderful tribute to the many musicians who originally played them. Nesmith talked through some of his lyrics, probably a given since the last time he sang some of them was 50 years ago. He made up for it by singing his own haunting 1970 solo hit, "Joanne" so deeply it sounded like it was interwoven into his DNA itself.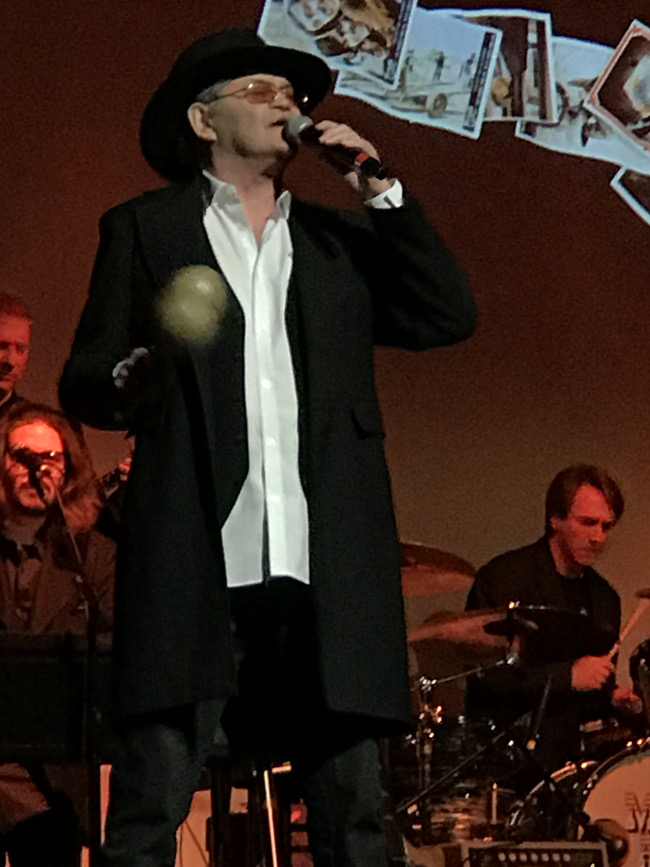 More surprising was how Dolenz, never seemingly that ambitious in his post-Monkees career, stepped into the role of ringmaster, effortlessly carrying the show, even as the Nes looked happily dazed just to be there.
"Did you see 'Head'?" Dolenz asked the crowd, about the band's famously chaotic 1968 attempt to deconstruct its own prefabricated image. "Do you know what it's about? [Pause] Could you tell me?"
Not sure how long Nes will stick with this pretense of being in a reunion band that only fleetingly existed to begin with. Near the end of their first run, when Tork then Nesmith left what was clearly a post-cancellation sinking ship, the joke was they would eventually run the Monkees franchise dry with a single member, calling it "The Monkee."
But who would have guessed that the concept would work out so well after all? I'd totes see Dolenz in whatever casino nearby he'd be playing at. ("Door into Summer"), ("Porpoise Song"), ("St. Matthew"), ("Circle Sky").
What else I listened to this week...
Top Artists
| # | Artist | Tracks Played |
| --- | --- | --- |
| #1 | The Monkees | 123 |
| #2 | Ike & Tina Turner | 62 |
| #3 | Joe Bonamassa | 54 |
| #4 | Solange | 49 |
| #5 | Harry Nilsson | 45 |
| #6 | George Jones | 31 |
| #7 | Quicksilver Messenger Service | 18 |
| #8 | Beth Hart & Joe Bonamassa | 17 |
| #9 | Gillian Welch | 14 |
| #10 | Aimee Mann | 12 |

Top Albums
| # | Name | Artist |
| --- | --- | --- |
| #1 | Sol-Angel & the Hadley St. Dreams | Solange |
| #2 | Anthology | The Monkees |
| #3 | At The Kabuki Theatre | Quicksilver Messenger Service |
| #4 | Pisces Aquarius Capricorn & Jones Ltd. | The Monkees |
| #5 | The Monkees | The Monkees |
| #6 | I'm With Stupid | Aimee Mann |
| #7 | Present | The Monkees |
| #8 | Black Coffee | Beth Hart and Joe Bonamassa |
| #9 | Time (The Revelator) | Gillian Welch |
| #10 | Black Rock | Joe Bonamassa |

Top Tracks
| # | Song | Artist | Times Played |
| --- | --- | --- | --- |
| #1 | Par For The Course | Aimee Mann | 12 |
| #2 | Revelator | Gillian Welch | 10 |
| #3 | I'll Fly Away | George Jones | 5 |
| #4 | Time: The Donut of the Heart | J Dilla | 5 |
| #5 | I Go to Sleep | Sia | 5 |

Multimedia: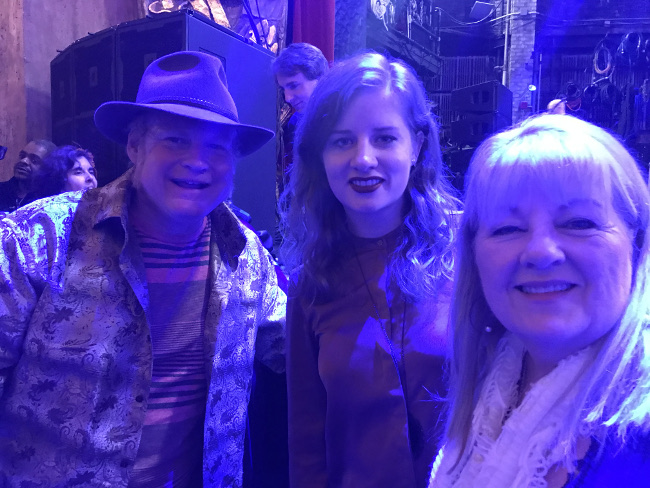 Lexi, her mom Diane, and myself
Previous Weeks